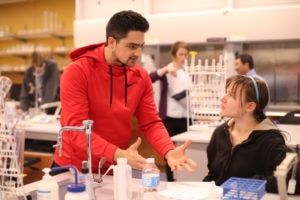 Mount Wachusett Community College has partnered with three local high schools to offer classes this summer and fall to rising juniors and seniors interested in a career in the areas of science, technology, engineering and math (STEM).
Beginning this summer, MWCC's Early College STEM program will enroll students from existing high school partners as well as Gardner High School, Narragansett Regional High School and Oakmont Regional High School in college-level courses that correspond with a STEM career. Communities covered by this new program are Leominster, Fitchburg, Athol, Gardner Ashburnham, Westminster, Baldwinville, Winchendon, Templeton and Phillipston. The program is designed to serve rising high school juniors and seniors in courses this summer and fall.
"The Early College STEM program gives students interested in a STEM career the opportunity to direct their educational path before they have even graduated high school, benefiting not only themselves but the greater community as they get a head start on well-paid careers." said Mount Wachusett Community College President James Vander Hooven.
Students will have the opportunity to earn at least six college credits in STEM-only courses across the two semesters. The classes, including books and fees, will be free for the students thanks to a $125,209 grant from the Massachusetts Department of Higher Education.
"I'm delighted but not surprised to see Mount Wachusett Community College step up to the plate in developing a new Early College model for the Commonwealth," said Carlos E. Santiago, Commissioner of Higher Education. "They are leveraging their strong partnerships with local high schools to provide a terrific opportunity for students to experience college-level coursework, acquiring credits and saving money in the process. At the same time, employers stand to benefit because the program helps students learn about STEM careers. It's a win-win."
A key part of the program is the pathway to a STEM career with all courses corresponding to a specific career path. Gardner's Superintendent Mark Pellegrino said that the program will be life-changing for many students, especially those overcoming the obstacle of living in poverty.
"The new Early College STEM program not only provides students with a true college experience, it will also allow them to explore highly skilled, practical, high-paying careers and develop the confidence necessary to succeed in these fields," said Pellegrino. "The long-standing partnerships that MWCC has made with all of the local high schools have served the students and our communities well. This program in particular will help many of my students begin to see that what they once thought was impossible is not only possible, it's expected."
Narragansett Superintendent Dr. Christopher Casavant said this program will allow students to have a college experience prior to full-time enrollment.
"The Early College STEM partnership with Mount Wachusett is a great opportunity for Narragansett's Classes of 2018 and 2019," said Superintendent Casavant. "The students will be able to have a true early college experience while completing their high school academic requirements. The flexibility of the Early College STEM schedule also allows students to continue with their high school extra-curricular activities."
Additional information and applications for the program are available at mwcc.edu/build/opportunity.