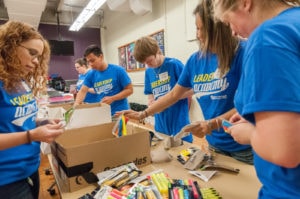 Mount Wachusett Community College has launched a new summer program that will pay recent high school graduates to take free classes before entering school at MWCC this fall.
The Academic Program Discovery Academy is open to high school graduates or qualifying MWCC students who will not only be awarded a full scholarship to take two courses over the summer but also receive a stipend of $1,000, books for both courses, academic support and even a bus pass if the student needs one. Students who go through Discovery Academy will enter MWCC in the fall with six credits completed and having saved over $1,200 in tuition and fees.
Discovery Academy is an expansion of the college's STEM Starter Academy that has helped numerous MWCC students get their college education started with two free STEM-related courses the summer before they attend MWCC. Dani Baboci attended the STEM Starter Academy in the summer of 2016 and said that the summer courses set students up for a successful transition to college.
"You get two free classes and are paid to study. No one believes it," Baboci, who is on the Physics and Pre-engineering Track, said of the program. "I only knew one person when I started but ended up meeting a lot of people, including my friend Marcus who I have continued to take courses with and coordinate our schedules."
Marcus Delgado, who attended STEM Starter Academy with Baboci and is on the same study track, said the connections he made and his familiarity with the campus were a huge benefit as classes began in the fall.
"The program lets you make friends with similar interests, talk about your career and talk about other options you didn't think about previously. Plus you get to know the campus and get your bearings before other classes start in the fall," said Delgado.
Discovery Academy is designed for students who have recently graduated from high school, will be attending Mount Wachusett Community College this fall and are planning to major in programs in the liberal arts, humanities or social sciences.
The two classes for the Discovery Academy will be Philosophy 201: Introduction to Philosophical Issues and History 113: History of Contemporary Issues. Classes will run from July 10 through August 10. The summer will end with students participating in MWCC's Leadership Academy on August 22 and 23.
The program is funded through a $176,711 Performance Incentive Fund Grant from the Massachusetts Department of Higher Education. More information on the program is available at mwcc.edu/build/discovery. More information on the STEM Starter Academy is available at mwcc.edu/takeiton.