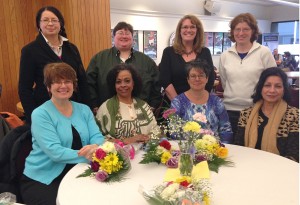 Eight MWCC faculty and staff members who play an instrumental role in the lives of our students were recognized during the college's annual Women's Appreciation Day on March 26.
For the past several years, students in Professor Susan Goldstein's Journalism I class interview and write feature articles on women who are making a difference in the lives of others. The Women's HerStory project this year recognized Paula Clapp, math tutor; Ann Reynolds, CCAMPIS advisor; Cynthia Doyle, accountant; Glaisma Silva Perez, coordinator of Disability Services; Catherine Maddox-Wiley, advisor, Rx program; Aliza Miller, math professor; Madhu Sharma, professor, English as a Second Language; and Elizabeth Kilpatrick, professor, anatomy and physiology.
The celebration capped off a month of activities and events in celebration of Women's History Month and included a performance by singer-songwriter Christa Gniadek.