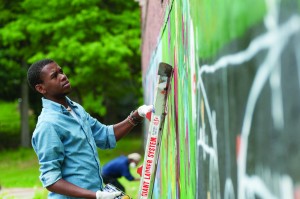 Only Community College in the Commonwealth to Receive Economic Opportunity Distinction
Mount Wachusett Community College has been named to the 2015 President's Higher Education Community Service Honor Roll, for exemplary community service programs. With a strong institutional focus on economic issues facing our communities, the college is one of only five community colleges across the nation to receive this distinction in the category of Economic Opportunity, and the only one in the Commonwealth.
The Honor Roll's Presidential Award is the highest federal recognition an institution can receive for its commitment to community, service-learning, and civic engagement. The Corporation for National and Community Service has administered the award since 2006 in collaboration with the U.S. Department of Education and the U.S. Department of Housing and Urban Development, as well as the American Council on Education, Campus Compact, and the Interfaith Youth Core.
Mount Wachusett has been named to the honor roll every year since its inception, and twice with distinction. A recognized state and national leader in civic engagement, MWCC's efforts coordinated through its Center for Civic Learning and Community Engagement align with the Corporation for National and Community Service's strategic commitment to engage millions of college students in service.
"To have our commitment to civic engagement acknowledged again this year brings us a great sense of accomplishment," said President Daniel M. Asquino. "Our students gain hands-on experiences through the programming recognized by this honor, from community revitalization projects to public health initiatives like the service trip to Haiti or our community dental clinics. We strive to give our students and faculty opportunities to grow as global citizens and give back to our communities, enriching all our lives. Being named to the President's Higher Education Community Service Honor Roll underscores the hard work and dedication of our entire college community."
Over the past 14 years, the cumulative impact of the college's efforts throughout North Central Massachusetts has resulted in an average of 150,000 hours of public service per year by students to a wide range of nonprofit organizations, valued at more than $3.5 million. A $2 million endowment from an anonymous benefactor in 2011 now ensures, in perpetuity, that MWCC students have every opportunity to participate in civic learning activities and gain a deeper understanding of their role within their community. The college matches the funds allocated from the endowment institutionally on an annual basis.
MWCC was cited for six exemplary service-learning initiatives coinciding with the 2014-2015 academic year. During the academic year, students contributed 121,863 hours to their communities through service learning, volunteerism, internships, practicums, co-ops and field experience.
"This honor is truly reflective of the collective effort of our faculty, staff, students and community partners," said Shelley Errington Nicholson, Director of the Center for Civic Learning and Community Engagement. "Receiving this recognition is particularly exciting this year as we took the unique approach of asking our students to co-write our application for the Presidents Higher Education Honor Roll. Our students are at the heart of everything we do from strategic planning to planning our yearly service recognitions and as such should be celebrated for this achievement. A continuing mission of the Center for Civic Learning and Community Engagement is to empower our students to find and exercise their voice."
Six service learning projects highlighted in MWCC's recognition include:
Dental Hygiene Clinic
Embedded within a community health clinic, Mount Wachusett Community College's Dental Hygiene program provides low cost, comprehensive dental care to individuals and families in the greater Fitchburg, Leominster and Gardner area. Dental hygiene students have a unique service learning experience as they receive state-of-the-art, hands-on clinical instruction that focuses on preventing and treating oral diseases and helping patients maintain optimal dental and overall health. The students provide services to over 850 community members per year through service learning projects for a total of 14,248 hours of service to the community. Based on the Independent Sector index of the value of service, this is a dollar value of $413,192 in just one year through the dental hygiene program alone
Jackson Park Playground Mural
The Art Department at Mount Wachusett Community College has a vision to create murals around Gardner. Each year, murals are painted by art students with the thought that these murals will help revitalize the city with color. By contributing to the community, art students gain experience in mural painting and in beautifying their community while earning service learning credit. Each year, one specific location is chosen for beautification and adopted by a class. In June 2015, MWCC art students converted graffiti at playground into public art. In partnership with the city of Gardner, they transformed a graffiti-covered wall into public art at the newly refurbished Jackson Playground. "Unplug and Play" is the title of the mural conveying their message that children should put down the controllers and have fun at the playground. The 150-foot mural depicts Gardner scenes, ranging from the giant chair to the orange and black stripes of the Wildcats to the college's turbines. On June 8, 2015 MWCC President Daniel M. Asquino, Gardner Mayor Mark Hawke, state Representative Jonathan Zlotnik, Art Professor Thomas Matsuda, chair of the college's art department, and other community and college officials visited the site and congratulated the artists on their accomplishment.
Nursing Service Learning Trip to Haiti
A group of MWCC nursing students, alumni and faculty members spent a week in Haiti in the winter of 2015 to provide health care to impoverished children and adults served by the Gardner nonprofit Forward in Health. Forward in Health, founded by Dr. John Mulqueen and MWCC alumna Paula Mulqueen, RN, is dedicated to providing health care to residents in a rural area just outside Les Cayes. The organization has organized more than 50 mission trips since 2001, and recently completed construction of a clinic to serve residents in one of the world's poorest countries. On these trips, they bring with them medicine, supplies, volunteers from the community – and hope.
Economic Inequality Initiative and Hunger Relief
In fall 2014, the American Association of State Colleges and Universities selected Mount Wachusett Community College and Keene State College to lead 31 institutions in the AASCU's national economic inequality initiative. The three-year initiative engages students in meaningful dialogue on economic inequality, its impact on democracy and the relationship between public policy, economic inequality, economic opportunity, and social mobility.
Hunger is a large problem in our local communities and on our campuses. As a result, as a part of a larger project on economic inequality, the Center for Civic Learning and Community Engagement kicked off the year at Leadership Academy (a pre-orientation activity for incoming students) with a service project at Many Hands Organic Farm where 25 students learned about organic farming, food production and food distribution. In November, the college held its first annual Oxfam Hunger Banquet to provide a visual demonstration of the inequities of global food distribution while also raising funds for hunger relief.
Habitat for Humanity Partnership
Habitat for Humanity of North Central Massachusetts has been building simple, decent, affordable homes in Fitchburg and the 24 surrounding towns and cities since 1988. Habitat of North Central Massachusetts hosts MWCC interns, service learning students, and volunteers in addition to providing day of service opportunities and as a result was named as the MWCC Site Partner of the Year for 2015 by the Center for Civic Learning & Community Engagement.
Otaku United Fundraiser
Mount Wachusett Community College's Otaku United is a student-run organization that celebrates Asian culture, including art, language and anime. As a part of the requirement to obtain student government associate funding, all student clubs and organizations must complete a minimum of two civic engagement projects. In the spring of 2015, Otaku chose to focus their service efforts on low-income children attending the MWCC Garrison Center for Early Childhood Education and the Waterford Street School in Gardner.