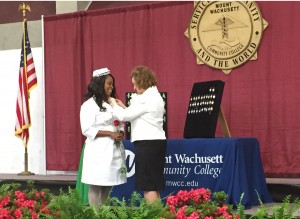 Ninety eight graduates of MWCC's day, evening and LPN to ADN  nursing programs celebrated  a  milestone during the 42nd annual Nurse Pinning Ceremony held May 21 at the Fitness & Wellness Center.
Each graduate, dressed in a traditional nurse uniform, was welcomed into the profession by having a nursing pin fastened to her/his lapel by a fellow nurse—a family member, friend or faculty member. The eight-star pin is imprinted with the words "Service to Humanity and the World" with the nursing symbol in the middle.
"This is a big night for our nursing students," Executive Vice President Ann McDonald told the gathering of hundreds of friends and family members, current students and alumni. "I see first-hand, every day the dedication our nursing students have to their studies and profession."
Eileen Costello, Dean of the School of Health Professions, Public Service Programs and Social Sciences led the ceremony with the assistance of faculty members.
The graduates also lit electronic candles and recited the Florence Nightinigale Pledge, an oath originally composed in 1893 and named for the founder of modern nursing.