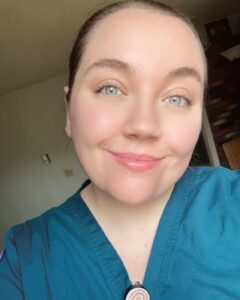 Campus Compact, a national coalition of colleges and universities working to advance the public purposes of higher education, has named 154 student civic leaders who will make up the organization's 2023-2024 cohort of Newman Civic Fellows. Hanna Shailer, a student at MWCC, will join students from 38 states, Washington, D.C., and Mexico to form the cohort.
The Newman Civic Fellowship recognizes students who stand out for their commitment to creating positive change in communities locally and around the world. The fellowship is named for the late Frank Newman, one of Campus Compact's founders, who was a tireless advocate for civic engagement in higher education. In the spirit of Dr. Newman's leadership, fellows are nominated by Campus Compact member presidents and chancellors, who are invited to select one outstanding student from their campus each year.
"Hanna Shailer is a nursing student at Mount Wachusett Community College, a Student Leader in Civic Engagement and a volunteer passionate about access and opportunity for her classmates as well as the community," said President James Vander Hooven. "Hanna has worked with the college food pantry for the past five years. Hanna transferred her focus to virtual mentoring during the height of the pandemic and has been an invaluable resource to students who are seeking help in the local community. In addition, Hanna has participated in community-sponsored service trips to Haiti and will be traveling to Costa Rica this summer to provide service. Hanna is a mentor and role model who is increasingly focusing her service on creating healthy local and international communities."
"You learn more through experience than through observation," Shailer explained. "Poverty was something I was aware of from a young age. My family was lucky to receive assistance from our local community in months when we fell short, though I know now this isn't always the case. This always moved me, and I felt impacted to contribute to the change being made involving economic inequality. This journey started by doing food drives each year on my birthday, and volunteering with the Spirit Lifters at the Brookfield Congregational Church delivering flowers to local shut-ins before holidays. Through these experiences, I was able to learn more about food insecurity and the social injustices that fell even within just my small community. My love to serve others continued to grow within my community and beyond as I was able to go on service projects to DC, Chili, and Haiti. I now work in the MWCC, Brewer Center, as a Student Leader in Civic Engagement. My position includes both encouraging students to be more civically engaged through campus and community events, as well as meeting the unique needs of students. I am passionate about making others voices heard and creating a space of equity for students."
Through the fellowship, Campus Compact will provide these students with a year of learning and networking opportunities that emphasize personal, professional, and civic growth. Each year, fellows participate in numerous virtual training and networking opportunities to help provide them with the skills and connections they need to create large-scale positive change. The cornerstone of the fellowship is the Annual Convening of Fellows, which offers intensive in-person skill-building and networking over the course of two days. The fellowship also provides fellows with pathways to apply for exclusive scholarship and post-graduate opportunities.
"We are honored to recognize such an outstanding group of community-committed students," said Campus Compact President Bobbie Laur. "One of the best parts of the Newman Civic Fellowships is the richness of students' perspectives, experiences, and backgrounds—and how these varied stories all led to their passionate engagement with the social, political, and environmental issues impacting our world. These students will be the catalysts for change on many levels, and we are privileged to help empower them to create that change."
Learn more at compact.org/newman-civic-fellowship. You can read more about each of the student leaders selected for this year's cohort at compact.org/current-programs/newman-civic-fellowship/newman-civic-fellows.