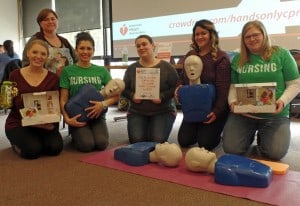 MWCC nursing majors trained more than 150 students, staff and faculty members to administer the life-saving skills of Hands-Only CPR during a community-wide challenge that engaged college students from throughout Worcester County.
MWCC's chapter of the Student Nurses Association sponsored the event February 22 and 23 in partnership with the American Heart Association's Central Massachusetts division, HealthAlliance Hospital, Leominster, UMass Memorial Medical Center and Medstar Ambulance.
"A lot of people have questions about CPR and don't really know if this is something they can do," SNA President Breana Keegan said of the training program. "It is a bystander intervention that is easy and approachable."
According to the AHA, more than 326,000 people experience cardiac arrest outside of a hospital each year, and about 90 percent of those victims die, often because bystanders don't know how to start CPR or are afraid they'll do something wrong. CPR, especially if performed immediately, can double or triple a cardiac arrest victim's chance of survival.
Hands-Only CPR is CPR without mouth-to-mouth breaths. It is recommended for use by people who see a teen or adult suddenly collapse in an "out-of-hospital" setting, such as at home, at work or in a park.