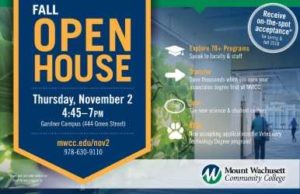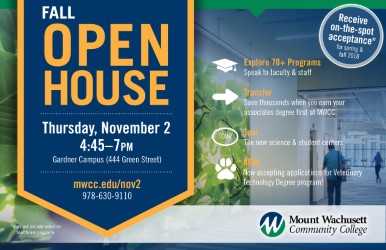 Mount Wachusett Community College is opening its doors to potential students on Thursday, November 2, from 4:45 to 7:00 p.m. Program faculty, academic advisors, and admissions counselors will be on hand to explain programs, answer questions, provide campus tours, accept new students, advise on course selection, and help process financial aid paperwork.
"Attending the Open House is like discovering a hidden treasure that has been right before your eyes but not noticed until you walk through our halls," said Marcia Rosbury-Henne, Dean of Admissions and Enrollment Management. "We welcome prospective students and their families to explore academic programs tailored to amazing career and transfer opportunities, engage with some of the best faculty in our region, and tour our dynamic facilities built to complement both the academic and social needs of each student that attends MWCC. I encourage all college-bound students to take a closer look at the Mount — there is something for everyone."
Faculty On-Hand 
The same faculty members who teach classes at the Mount will be available to chat with interested students.Multiple instructors and programs will be represented, including: Art, Biology, Business administration, Criminal Justice, Dental Assisting, Early Childhood & Education, Fire Science, Graphic & Interactive Design, HIM, Human Services, Manufacturing & Tech Hire, Medical Assisting, Medical Coding, Natural Resources, Nursing, Practical Nursing, Veterinary Technology, and many more.
Staff & Student Organizations
Student services such as Disability Support Services, Veterans Services, Career Services, Study Abroad, United Way Youth Venture will welcome new students and give them guidance on how to get involved and meet other students.
Acceptance & Help with Financial Aid
Potential students will also have the chance to meet with admissions counselors to get on-the-spot acceptance into the college for Spring 2018 and Fall 2018. All are encouraged to bring tax return documents so that staff can assist students in processing their FAFSA paperwork during their visit to the school.
All Campuses Represented
Although the event will be held at the college's Gardner campus, representatives from the Leominster Devens campuses will be on hand to discuss program offerings and accept new students.
Registration
To attend, please register online at mwcc.edu/openhouse or call Admissions at 978-630-9110. Interested students are encouraged to visit the college's main campus in Gardner from 4:45 – 7 p.m. on Thursday, November 2.