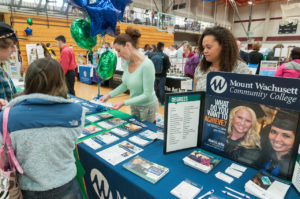 Admissions representatives from Mount Wachusett Community College will be participating in a college fair at Mount Ida College on Tuesday, April 17 as MWCC encourages Mount Ida students to explore transferring to the college.
"I am so thankful to the Mount Ida staff for putting together this college fair. This will be a great opportunity for Mount Ida students to explore their options and understand that this is a bump in the road and that there are many opportunities for them," said Marcia Rosbury-Henne, Dean of Admissions and Enrollment Management at MWCC. "We welcome any Mount Ida students who want to study at Mount."
Rosbury-Henne explained that in addition to students on an Associate's Degree track with Mount Ida, first and second year students, as well as those enrolled for the fall, could choose the two-year degree equivalent of their original bachelor's program. Through the Mass Transfer program or the college's many articulation agreements, students could then transfer to a four-year institution to complete their degree with a possibly considerable cost-savings.
Mount Ida College Programs with MWCC Equivalents
 Accounting (B.S.) – Business Administration Accounting Concentration
 Biology (B.S.) – Biology
 Biology – Pre-Pharmacy Concentration (B.S.) – Pharmacy
 Business Administration (B.S.) – Business Administration
 Criminal Justice (B.S.) – Criminal Justice Law Enforcement
 Dental Hygiene Programs (B.S., A.S.) – Dental Hygiene or Dental Assisting
 Environmental Sustainability (B.S.) Earth/Environmental Science or
 Graphic Design (B.S.) – Graphic & Interactive Design
 Information Technology for Business (B.S.) – Computer Information Systems
 Interactive Media & Web Development (B.S.) – Graphic & Interactive Design
 Interdisciplinary Studies (B.A.) – Interdisciplinary Studies (especially Allied Health)
 Law and Society (B.S.) – Liberal Arts Pre-Law
 Media Communication (B.A.) – Media Communications
 Photography (B.S.) – MRT, Photography
 Political Science and History (B.A.) – Liberal Arts History & Political Science Track
 Professional Writing (B.A.) – Professional Writing
 Sport Management (B.S.) – Liberal Arts Exercise and Sport Track
 Sustainability and Society (B.A.) – Earth/Environmental Science or Liberal Arts Civic Engagement Track
 Veterinary Technician (A.A.) – Veterinary Technology
Rosbury-Henne said that students in specialized programs such as Vet Tech, Dental Hygiene and Criminal Justice need to be especially selective when thinking about their next school. These programs are not only hard to find elsewhere, but especially at an affordable price.
Jason Zelesky, Dean of Students, said that the students transferring to Mount Wachusett would find a welcoming community at The Mount.
"From one Mount to another, we are a family and we welcome every student to this college," said Zelesky.
Students who are unable to attend the college fair are encouraged to reach out to Rosbury-Henne at 978-630-9110.