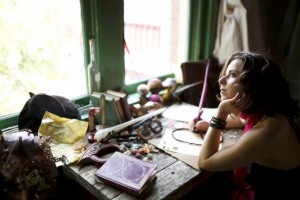 Each year, approximately one in five Americans suffer from some mental illness, such as depression, anxiety, bipolar disorder or schizophrenia. To continue to raise awareness about mental health and wellness, Mount Wachusett Community College, Heywood Hospital and the SHINE Initiative are presenting the third annual Mental Health Awareness Conference.
The free conference will take place Thursday, Oct. 8 from 8 a.m. to 3 p.m. at the DoubleTree by Hilton Hotel in Leominster. Boston-based singer-songwriter, poet and mental health advocate Meg Hutchinson is the featured speaker. The conference will also include a panel presentation and luncheon. Following the presentations, 150 MWCC nursing students will participate in the QPR (question, persuade, refer) suicide prevention training. Seating is limited, and reservations are required.
"This conference provides yet another opportunity to share relevant and fact-based information about mental wellness with the community," said Paul Richard, executive director of the SHINE Initiative, whose mission is to recognize mental illness in children and young adults as a mainstream health issue.
"For far too long, mental health has been viewed as a topic too delicate and too uncomfortable to speak openly about," said MWCC President Daniel M. Asquino. "It is imperative, on a local and national level, that open dialogue take place in our communities, in our schools, in our workplaces, and in our homes, because this is an issue that has everything to do with learning, employment productivity, and the quality and enjoyment of life. We are honored to again join the SHINE Initiative and Heywood Hospital in presenting this important conference," he said.
"Heywood Hospital is proud to partner with MWCC and The Shine Initiative to raise awareness and remove the stigma associated with mental health," said hospital President Winfield S. Brown. "One of Heywood's top priorities is to increase local capacity to provide support services for those who suffer from mental illness or addiction, and continue to carry the message that suicide is preventable."
Hutchinson, a frequent keynote speaker at universities, conferences and teaching hospitals around the country, grew up and attended schools in the Berkshires and now lives in the greater Boston area. She recently finished filming Pack Up Your Sorrows, a feature-length documentary that explores topics near to her heart: creativity, healing, mindfulness in education, mental health advocacy, and wellness, and how these elements converge in making the world a better place. The film is told through the lens of Hutchinson's personal story and includes interviews with leading psychologists, neuroscientists, authors, historians and spiritual teachers.
Panelists include Robert C. Bureau, associate director and faculty member at Assumption College's Rehabilitation Counseling Graduate Program; Dr. Phoebe Moore, assistant professor in the Psychiatric Department at UMass Medical Center in Worcester and a clinical child and adolescent psychologist who specializes in youth anxiety disorders; and Dr. Anne Procyk, a naturopathic physician practicing nutritional and integrative medicine to treat mental health disorders at Third Stone Integrative Health Center in Essex, CT.
For more information and to register for the conference, contact MWCC's Division of Lifelong Learning and Workforce Development at 978-630-9525 or online at mwcc.edu/noncredit.