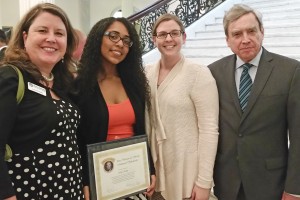 Bella Ballin, a high school junior enrolled in the Pathways Early College Innovation School at Mount Wachusett Community College, is among the 25 recipients of this year's prestigious Christian A. Herter Memorial Scholarship.
The award, presented by the Massachusetts Department of Higher Education during a ceremony at the Statehouse on May 28, covers 50 percent of recipients' expenses toward a bachelor's degree at the public or private college or university of their choice.
"It really is a great honor," said Ballin, a Worcester resident. "With this scholarship, many new opportunities are opening up for me that before were completely out of my range. I'm still looking for my niche, though I know I'm more oriented toward the STEM fields."
As a dual enrollment student at MWCC, Ballin is majoring in Liberal Arts and Sciences with a concentration in chemistry and plans to continue studying science at a four year school after graduation. She said she enjoyed high school, but wanted to tap into the opportunities provided through the Pathways school, including the cost of tuition and fees covered through school choice funding. Pathways students simultaneously earn their high school diploma and a transferrable associate degree.
"The Pathways Early College Innovation School provides highly motivated and academically successful students, like Bella, the opportunity to start their college experience early while being engaged in a comprehensive support system that develops academic and social skills," said Pathways Director Natalie Mercier. "Bella is a dedicated and hardworking student who exemplifies the mission of our program. We're very proud of her."
The Herter scholarship program provides educational opportunities to students who demonstrate profound personal strength and academic promise and desire to pursue postsecondary education. The program was established in 1972 by the Massachusetts State Legislature in honor of Herter, who served as the 59th governor of Massachusetts from 1953 to 1957 and as U.S. Secretary of State from 1959 to 1961.