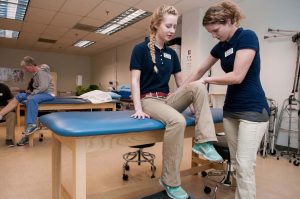 In a testament to the hard work of students and Mount Wachusett Community College's ongoing effort to maintain high standards and practical relevance for its Physical Therapist Assistant Associate's Degree Program, 100 percent of recent graduates who took their licensure exam in July passed.
"The PTA faculty expect excellence and the students deliver," said Margaret Jaillet, Assistant Dean for MWCC's School of Health Professions, Public Service Programs and Social Sciences. "MWCC has long-standing, dedicated PTA faculty who have maintained clinical practice. It is my belief that this provides the faculty an opportunity to present curriculum with clinical relevance to today's healthcare."
Eleven of the thirteen PTA students who graduated in May took their licensure exam on July 6th. They all passed. The remaining two PTA graduates will be able to take their test in October. While exciting, this was not a surprise to Jaillet, who explained the program has always had excellent pass rates.
"The first time pass rate is always over 90 percent and the two year ultimate pass rate has been 100 percent for the last two graduating classes. The national average at other institutions hovers around 85 percent for both categories," said Jaillet.
Physical therapist assistants carry out treatment procedures that assist with the rehabilitation of injured, ill, or debilitated people. The selective program prepares students to work in the healthcare field under the direct supervision of a physical therapist in a variety of settings. Those interested in the program can learn more at https://mwcc.edu/pta/.