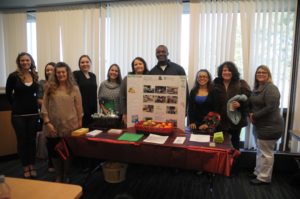 Students from the Mount Wachusett Community College Practical Nursing program presented their semester-long Service Learning Projects last week.
"I'm very proud of the work you have done and am looking forward to hearing the presentations," MWCC James Vander Hooven said at the beginning of the presentations made on Thursday, Nov. 30. "You own the information that you have been working so hard to learn."
As part of their final semester, the practical nursing class was required to take a service learning class placing students with nonprofit organizations. This was done to hone the students' skills such as working together and professionalism. It also showed students how they can make a difference in the community, said Chair of the Practical Nursing Program Kim Shea.
"We wanted them to have some real, meaningful experience, which I think they did," she said.
The four organizations that the students partnered with are the Gardner CAC, Catholic Charities, Clear Path for Veterans, and Crystal House. These partners were integral to the student's experiences, said Shea.
MWCC's Practical Nursing Certificate provides short-term education leading to a rewarding healthcare career. A licensed practical nurse (LPN) participates in direct and indirect nursing care, health maintenance, teaching, counseling, collaborative planning, and rehabilitation. LPNs work under the direction of registered nurses, physicians, and dentists. The college credits earned in this program may be applied toward a nursing degree and prepare students to take their LPN examination.