In January 2001, shortly after attending a conference on tele-learning, Mount Wachusett Community College President Daniel Asquino founded Massachusetts Colleges Online, which grew into a consortium of the state's 15 community colleges and nine state universities.
In appreciation for his leadership, the consortium presented President Asquino with a Contributor of Distinction Award during its annual conference this spring at Greenfield Community College. MWCC librarians Ellen Pratt and Suzanne Levasseur were among the faculty members statewide to receive Course of Distinction Awards for their online courses.
More than 2,600 courses are offered through MCO. The Course of Distinction (COD) award is named after the Bay State's unique association with the "Sacred Cod." The award recognizes faculty from throughout the state who have developed and teach innovative and exciting online courses.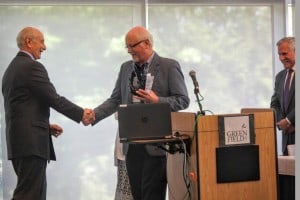 "Would an organization like MCO have been created without the leadership of Mount Wachusett Community College President Daniel Asquino? Probably. Would it have happened so quickly? No way," Vincent Ialenti, MWCC Dean of Academic and Institutional Technology, said in presenting the award. The president, who plans to retire in early 2017 after nearly 30 years at the helm of MWCC, was recognized for his role as the founder of Mass Colleges Online and for being one of its "greatest advocates," Ialenti said.
Pratt, MWCC's distance education and outreach librarian, and Levasseur, reference and instructional services librarian, were reconized for their Research Skills course, which introduces students to the skills necessary to write a college paper and develop critical thinking. More than 3,300 students have enrolled in their course over the past two years.