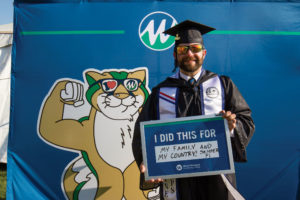 Mount Wachusett Community College has been named by Military Times as 7th in the country among two-year schools in their latest Military Times Best: Colleges 2018 rankings.
"Mount Wachusett Community College is first and foremost a student friendly school. With that kind of inherent culture, it is not a difficult stretch to being a military friendly school," said MWCC Director of Veteran Services Robert Mayer. "With internal cross training and cooperation, the entire college is more knowledgeable of the challenges facing our veteran students."
More than 600 colleges took part in this year's Military Times Best: Colleges survey. MWCC was ranked first in New England among two-year schools. The next highest ranked two-year New England school was Massachusetts Bay Community College in 26th place.
This ranking is a third-party verification of MWCC's work to make the transition from soldier to student to be as seamless and painless as possible, said Mayer. Any change has the potential to be difficult and challenging, he said, and the changes veteran students experience could present unforeseen difficulties in academic, physical and emotional health, or financial matters.
"It is our job to listen and make accessible the myriad of services available to our veterans," said Mayer. "I believe it is wise for veterans looking to further their education to consider a school with a history of serving the military community. This can make the transition from soldier to student easier and less confusing. This, of course, increases the chance of student success, which is the ultimate goal."
Assisting with that transition extends beyond the campus to connecting students with area veteran service providers. This allows the college to bring a variety of needed services not normally available at an academic institution to the college's veteran students.
According to the publication, the rankings factor in the results of Military Times' annual survey, the most comprehensive school-by-school assessment of veteran and military student services and rates of academic achievement. Best Colleges 2018 is an editorially independent news project that evaluates the many factors that help make colleges and universities a good fit for service members, military veterans and their families.
"Of the hundreds of schools that applied, fewer than half received the Military Times Best: Colleges designation this year. Only the best made the cut," said George Altman, the Military Times editor in charge of the rankings. "For the past eight years, we've seen colleges and universities consistently increasing their resources, revising their policies and improving their academic outcomes for military and veteran students. The Military Times Best: Colleges rankings showcase the very best of these efforts."
Military Times' annual Best Colleges survey asks colleges and universities to meticulously document a tremendous array of services, special rules, accommodations and financial incentives offered to students with military ties; and to describe many aspects of veteran culture on a campus. Military Times also factors in data from the Veterans Affairs and Defense departments, as well as three Education Department sources: the IPEDS Data Center, College Scorecard data and the Cohort Default Rate Database.
For the full Military Times Best: Colleges 2018 rankings, go to: https://www.militarytimes.com/education-transition/rankings/2017/11/20/218-schools-make-military-times-best-colleges-2018-rankings/.