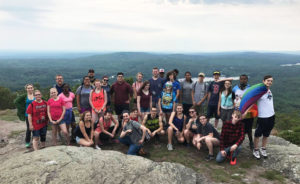 Mount Wachusett Community College has received a $1,385,670 Upward Bound Math and Science Program grant from the U.S. Department of Education.
"Upward Bound Math Science has touched the lives of many families in North Central Mass as they search for ways to provide college opportunities to their children. The uninterrupted funding from the Department of Education means we can continue to support our families and schools in providing access to STEM career exploration and assistance with the college application and financial aid process," said Director Upward Bound Math Science and N. Central Mass Talent Search at MWCC Angele B. Goss.
The Upward Bound Math and Science program (UBMS) prepares high school students for postsecondary education programs that lead to careers in the fields of science, math, technology and engineering. The objectives of the program are academic improvement on standardized tests, project retention, postsecondary enrollment and postsecondary persistence.
Specifically designed for first-generation and low-income students, UBMS is one of the nationwide TRIO programs created through federal legislation nearly 50 years ago. MWCC's North Central Massachusetts Upward Bound Math and Science program began in 2008 with a grant from the U.S. Department of Education. In 2012, the college received a five-year, $1.3 million grant to continue funding the program. The latest grant round was finalized in September, with MWCC receiving $277,134 per year for the following five (5) years.
The UBMS program is offered at no cost to over 60 students who have an aptitude for math and science and are in grades 9 through 12 at Gardner High School, Athol High School and Murdock Middle/Senior High School in Winchendon. Two-thirds of the students are from low income and first-generation college families and have an identified need for services. These students not only build their skills, but also bond and create a community as they move through their high school experience together.
The program provides a comprehensive academic year and summer and bridge residential program that is customized to the needs of each participant. On Saturdays and school vacations during the academic year, students participate in college tours, monthly science, technology, engineering, and math (STEM)-based cultural/academic enrichment opportunities, hands-on laboratory activities; STEM-based field trip, lectures and other activities.
The students also receive individual success plan development and follow-up meetings with academic counselors and program aides, secondary school course selection advising, after-school tutoring, guidance and assistance, alternative education programs, parent/guardian workshops, e-mentoring and workshops.
"Upward Bound is a terrific program that makes sure young students are ready to succeed in college.  I'm very glad this federal funding will go to Mount Wachusett Community College," Senator Elizabeth Warren said. "Massachusetts' community colleges do a great job preparing students for careers, and I'm happy to fight for their work in Washington."
"Upward Bound Math and Science programs can change the course of a student's life. By supporting low income and potential first generation high school students work towards earning a college degree, these young people become uniquely qualified for well-paying careers in science and math fields. I am proud of Mount Wachusett Community College for its commitment to Massachusetts students and look forward to the many successes of this Upward Bound program," said Senator Edward J. Markey.
"Every child deserves the bright future a college education brings and Upward Bound helps to put that within reach for so many students in need. I am thrilled to see Mount Wachusett Community College receive this well-deserved funding," Congressman Jim McGovern said. "I am proud to support Mount Wachusett Community College and all of our Massachusetts colleges that do so much to prepare our students for good-paying jobs and great careers."
"Using federal funds to partner with local institutions to address the needs of the region is a key tool in ensuring all people have the opportunity to pursue higher education. The significant return on these investments will have ongoing reverberations for many years to come, especially with the growing importance of STEM education. Giving the college the tools to emphasize math and science education will help prepare more students for success at the college level and beyond. Mount Wachusett received these funds after a rigorous grant process, which speaks to both the quality of their application and the school in general. They exemplify the growing trend of Third District institutions becoming both academic and community leaders. I look forward to seeing the far-reaching impact of this funding take hold," said Congresswoman Niki Tsongas.