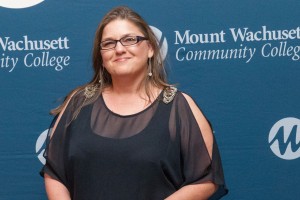 Mount Wachusett Community College has been awarded two five-year grants from the U.S. Department of Education totaling $2.99 million to continue support programs that help low-income students, first-generation college students and students with disabilities succeed in college.The grant awards will be used to continue the college's successful TRIO Student Support Services programs. The goal of each program is to improve student outcomes in the areas of retention, graduation and transfer to four-year institutions to earn a bachelor's degree.
MWCC will receive $1.1 million over the next five years – $220,000 per year – to support the Student Support Services STEM Health Sciences program, known on campus as the Rx Program. Comprehensive services will be provided to 120 students annually who are majoring in health sciences programs including nursing, practical nursing, dental hygiene, dental assisting, physical therapist assistant, complementary health care, medical laboratory technology, medical assisting, medical office, biotechnology-bio manufacturing, fitness leadership and exercise science, and general studies allied health. Program participants receive wrap-around support services that include tutoring; academic advising; career, personal and transfer counseling; supplemental courses; financial aid advising and workshops; and financial and economic literacy education.
MWCC's Student Support Services TRIO program, known on campus as the Visions Program, will receive $378,485 a year over a five-year span, for a total of $1,892,425 million. Now entering its 37th year as an educational opportunity TRIO program at MWCC, Visions serves eligible students enrolled in any non-health services major. The program provides a variety of comprehensive services to 200 students each year, including academic advising, personal, career and transfer counseling, tutoring, seminars, financial aid advising and workshops, financial literacy education, a faculty and peer mentoring program and supplemental courses.
"We are delighted to receive these two, highly competitive TRIO grants to continue programs that provide students with the tools and skills they need to succeed in college and earn a degree," said MWCC President Daniel M. Asquino. "These awards are a testament to the outstanding work of our dedicated faculty and staff and to the perseverance of our students. We our most grateful to our federal legislative delegation for their ongoing support of these programs and commitment to our students and the economic health of our region," he said.
"Mount Wachusett Community College is committed to providing academic support and resources to students who need it the most," said Senator Elizabeth Warren. "These federal TRIO grants will go a long way toward helping MWCC continue its extraordinary efforts to help every student succeed.  MWCC deserves congratulations for all it is doing."
"We need to prepare all of our students to compete in the 21st century innovation economy, and these TRIO grants will ensure Mount Wachusett Community College continues to prepare low-income and first generation students with the skills of tomorrow," said Senator Edward J. Markey. "I congratulate Mount Wachusett Community College for securing this funding and for its commitment to helping students of all backgrounds and abilities achieve their dreams.
"Mount Wachusett received these funds after a rigorous grant process, which speaks to both the quality of their application and the school in general," said Congresswoman Niki Tsongas. "They exemplify the growing trend of Third District institutions becoming academic leaders in the Commonwealth. I commend this fine institution and look forward to seeing the far-reaching benefits take hold."
Using federal funds to partner with local institutions to address the needs of the region is a key tool in ensuring all people have the opportunity to pursue higher education, she said. "The significant return on these investments will have ongoing reverberations for many years to come, as more students are encouraged and able to complete their college careers and enter the workforce with the skills necessary to succeed."
"With these TRIO awards, Mount Wachusett Community College will be able to continue to provide their students with a great education and prepare them for good careers," said Congressman Jim McGovern. "TRIO has a strong tradition of helping low-income, first generation college students succeed. These awards will directly help students complete their education and pursue good careers in STEM health science fields and many other fields that support our communities, including education, business, human services and public service. Mount Wachusett Community College is a strong partner for North Central Massachusetts and I look forward to continuing to work with them to open new doors of opportunity and grow our local economy."
News of the federal grants was well received by students and alumni who have participated in the TRIO programs at MWCC.
"Without the Visions Program, I would not have been successful," said Lisa Burns, a single mother who enrolled at MWCC in 2012 to pursue a new career after a back injury prevented her from continuing her long-standing job as a pharmacy technician. Though initially hesitant to enroll, Burns became a member of the Honors Program, the Alpha Beta Gamma business honor society and the Phi Theta Kappa honor society at MWCC. In May, she became the first in her family to graduate from college when she earned an associate degree in Business Administration. In September, she will transfer to prestigious Mount Holyoke College on a full scholarship through the Frances Perkins Tuition Scholarship program to pursue her bachelor's degree.
"When you don't have support on the outside, the support on campus is even more important – to have people telling you that you can do it," she said.