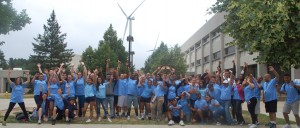 The U.S. Department of Education will award two grants totaling $573,600 to Mount Wachusett Community College through its Talent Search Program, Congressman Jim McGovern announced on July 21. The program supports efforts on campuses in Massachusetts and across the country to help students from disadvantaged backgrounds to succeed in higher education.
"Every student deserves access to a strong education and the bright future it brings. These grants will provide a critical boost to the great work Mount Wachusett Community College is doing to help more students succeed and reach their full potential," Congressman McGovern said. "Where you grow up should never limit your ability to go to college and pursue your dreams. These grants will help to open new doors of opportunity for so many students right here in Massachusetts. I am proud to support our local schools and look forward to seeing all the good this funding will do for our communities."
"Community colleges play a vital role in our nation's economy, and we are grateful for our Congressional delegation's continued support of students who benefit from these TRiO programs," said Mount Wachusett Community College President Daniel M. Asquino. "These two grants will serve nearly 1,200 students in area school districts, providing them with the support needed to be successful in middle school and high school, and ready to meet the challenges and opportunities of post-secondary education."
Each grant is anticipated to be continued for a total of five years to support the program, which are administered through the college's Division of Access & Transition.
MWCC's long-running Talent Search program, now entering its 26th year, serves 695 students annually at the Longso and Memorial middle schools in Fitchburg, Fitchburg High School, Gardner Middle School, Gardner High School, Samoset and Sky View middle schools in Leominster, Leominster High School and Leominster Center for Technical Education Innovation.
The North Central Massachusetts Talent Search program was launched in 2011 with a similar TRIO grant. The program is designed to prepare 500 students annually at Athol-Royalston Middle School, Athol High School, Clinton Middle School, Clinton High School, Ralph C. Mahar Regional School in Orange, Murdock Middle/High School in Winchendon and the Sizer School in Fitchburg.
The Talent Search program identifies and assists individuals from disadvantaged backgrounds who have the potential to succeed in higher education. The program provides academic, career, and financial counseling to its participants and encourages them to graduate from high school and continue on to and complete their postsecondary education.
The program also publicizes the availability of financial aid and assist participant with the postsecondary application process. Talent Search also encourages persons who have not completed education programs at the secondary or postsecondary level to enter or reenter and complete postsecondary education. The goal of Talent Search is to increase the number of youth from disadvantaged backgrounds who complete high school and enroll in and complete their postsecondary education.
For more information about MWCC's Talent Search programs, click here.