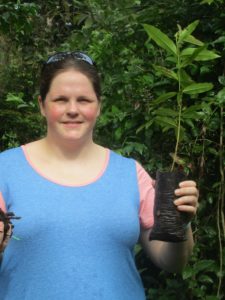 Mount Wachusett Community College Student Cristen Comptois has been recognized for her dedication and commitment to serving others by being named one of Campus Compact's national 2018 Newman Civic Fellows Award winners.
"Cristen has not only excelled as a student at MWCC, but has really embraced community involvement during her time here. She served for eight years in the army and continues her service through volunteerism and student leadership at MWCC. I am so proud that her hard work has been recognized with this Newman Civic Fellowship," said MWCC President James Vander Hooven.
Cristen, of Hubbardston, has been engaged on campus since her first semester, serving as a member of the Student Veterans Club and the Cultural Engagement and International Service Club. Last year, Cristen traveled with seven other students to Costa Rica for one week of service and cultural immersion, which included planting at a biodynamic farm, painting a home for a low-income family, a beach clean-up, and volunteering with local schoolchildren. This academic year, Cristen is Treasurer of the Cultural Engagement and International Service Club, as well as Co-Student Coordinator for this years' service trip to Peru.
Prior to enrolling at Mount Wachusett Community College, Cristen served for eight years in the United States Army as a military police officer and investigator in Hawaii and Alaska. During her service, Cristen consistently sought out extensive trainings to promote the safety of her peers and local community members, inclusive of suicide prevention, as well as child abuse and domestic violence prevention and intervention. Cristen was released from duty with over twenty citations from domestic and international organizations for outstanding service.
"Cristen is a credit to our college and to our country. She is a great inspiration to other students," said Shelley Errington Nicholson, the director of the Brewer Center for Civic Learning & Community Engagement. "I had the pleasure of traveling with Cristen to Costa Rica on the MWCC International Service Trip and watched her interact with people across a language and cultural divide. She is always so eager to learn from others and to experience diversity while at the same time serving as a role model for other students."
The Newman Civic Fellowship is a one-year fellowship for community-committed college students from Campus Compact member institutions. Honorees are chosen for their leadership and ability to take action in pursuit of long-term, positive social change. This year, 273 students received the award.
Through the fellowship, Campus Compact provides a variety of learning and networking opportunities, including a national conference of Newman Civic Fellows in partnership with the Edward M. Kennedy Institute for the United States Senate. The fellowship also provides fellows with pathways to exclusive scholarship and post-graduate opportunities.
Campus Compact member presidents and chancellors are annually invited to nominate one community-committed student from their institution for the fellowship. That is no guarantee that the nominee will receive the fellowship.