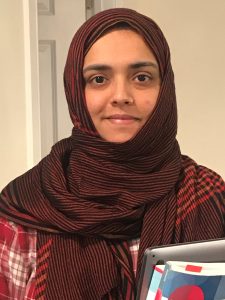 The Massachusetts Coalition for Adult Education (MCAE) has named Mount Wachusett Community College student Hafsa Asfa as its 2021 Ruth E Derfler Memorial Scholarship recipient.
The Ruth E Derfler scholarship is given in memory of MCAE's past president and colleague to a student who has completed their studies at a Massachusetts adult education program with distinction in not only their academics but as successful leaders in their communities and classrooms who have overcome diversity in order to pursue their education.
"Hafsa is a student that reminds all of us why we work in Adult Education and makes us proud to work in this field," stated Nicolas Colello, Associate Director of Adult Education and Training at MWCC. "She is the ideal adult learner, community leader and activist, and an exemplary candidate for the Ruth Defler Scholarship."
Asfa immigrated to the US with her husband in search of a better life. Once the couple had children, her focus was on her family, ensuring that her children had what they needed in both their home and school life. As her children moved up into middle and high school, she knew it was time for her to pursue her own educational and career goals.
Asfa's first step toward what she calls her "all American dream" was to reach out to the Adult Education Department at MWCC. She knew she needed to start with a high school equivalency diploma before she could move any further on her journey.
As a second language learner, Asfa had to work extra hard to meet this first goal. She met the challenge of academics in a second language with perseverance and determination. College did not come easily to her, but with the help of the Adult Education resources, she earned her high school equivalency diploma in the spring of 2017.
In fall of 2017 she enrolled in the MWCC Transitions to College Program, a support program providing free access to college courses and support services for two semesters for students like Asfa who are moving from the adult learning center to a degree program. Initially, she chose human services, but later learned about the nursing program and switched. She has since earned a certificate in phlebotomy and earned a spot in the Registered Nurse degree program. At the age of 40, she passed her first semester of the nursing program with a 3.5 GPA.
In addition to her dedication to academics, Hafsa has taken a leadership role in the local community. She serves on the Fitchburg Human Rights Commission and is also a contributing writer to local media on racial justice and equity.
Recently, Hafsa has also become engaged as a student leader of the Transition to College program at MWCC. In this role she provides support to other adult education students by telling her story. "It has been so beneficial for our Adult Education students to hear her story of overcoming barriers and personal challenges," notes Kimberly Kayser, Transitions Coordinator at Mount Wachusett Community College.
To learn more and donate to the Massachusetts Association for Adult Education's Ruth E. Derfler Memorial Scholarship and to watch video of the scholarship presentation, please visit https://mcae.net/annual-conference/mcae-awards/.