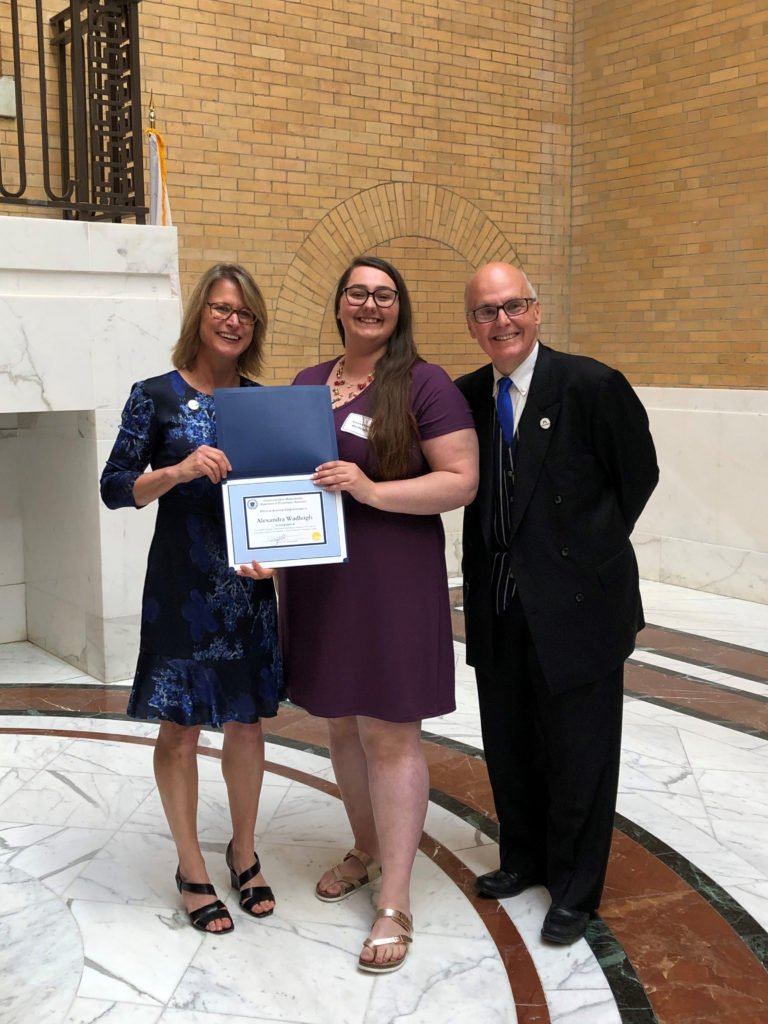 Mount Wachusett Community College student Alexsandra Wadleigh was honored last month at the Massachusetts State House for her accomplishments.
Wadleigh was a speaker at the Massachusetts Department of Transitional Assistance Client Celebration that was held on June 26. The event was created to celebrate those involved with DTA programs that help provide job training, education, and other skills to help low-income individuals and families break out of poverty and gain financial independence.
Wadleigh began taking classes through Mount Wachusett Community College after being referred by MY TURN, an organization in Fitchburg who is a provider for DTA clients among others in the community. They evaluated Alex's needs and matched them with an education at MWCC.
"Alex's accomplishments are really quite incredible. Most young people who grow up in the environment that Alex did are never able to escape the grips of poverty and substance misuse.  She is full of grit, determined to create a safe and stable environment for herself and her son, and committed to putting in the work to make that happen," said MY TURN Executive Director Allison Joseph. "We are bursting with pride over her accomplishments and eager to see what the future holds for her."
In her speech at the client celebration, Wadleigh discussed growing up in poverty and her struggles to become independent and self-sufficient as she set out to establish a life for herself and her son. When she tapped into the resources of the Department of Transitional Assistance as a client and began working with MY TURN as her provider, things took a dramatic turn for the better. With the support at MY TURN, Wadleigh was able to obtain her HiSET and get her driver's license.
"The staff at the Fitchburg MY TURN office, Maria and Nicole, have become like a second family to me; they always have my best interests at heart and want me to succeed," she said.
Through MY TURN, Wadleigh was able to take classes at MWCC, where she received training for her OSHA General Industry Safety and Health Certification and completed a noncredit program in Quality Control, which allowed her to obtain certification as a Sigma Six Yellow Belt. She was then accepted into Mount Wachusett Community College's Transitions to College Program and completed this Spring semester with a 4.0 GPA. Her success helped her earn entry to the MWCC STEM Starter Academy where she is receiving free summer courses.
"I am currently working toward an Associate's Degree in biomanufacturing and biotechnology. Upon completion of my Associate's Degree, I plan to reenter the workforce as a skilled professional and also continue my education to earn a Bachelor's Degree," she said. "This will create a future for Foster and me, which will allow me to focus on building him up both academically and socially. I strive to ensure that my son has every opportunity to succeed and stress the importance of education."
More information about MY TURN is available at my-turn.org and Massachusetts Department of Transitional Assistance is available at mass.gov/orgs/department-of-transitional-assistance. More information about MWCC's training is available on MWCC's website at mwcc.edu/academics/noncredit/aet/hi-set-preparation-advanced-manufacturing.