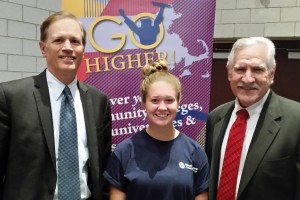 Kaila Lundgren, a Pre-Healthcare Academy student at Mount Wachusett Community College, shared the stage with Massachusetts Secretary of Education Jim Peyser and Commissioner of Higher Education Carlos Santiago during the state's first Go Higher! event, held Sept. 24 at Montachusett Regional Vocational Technical School.
Lundgren, a 2015 graduate of Ralph C. Mahar Regional High School, told an assembly of 350 seniors that she was inspired to become a registered nurse to help her 7-year-old brother, who lives courageously with a rare, chronic kidney stone disease called cystinuria, and by her mother, who became an RN after studying at one of Massachusetts' community college while raising a family of five children.
One of six student speakers, Lundgren said she chose MWCC because of its fast-track option into the college's nursing program through its Pre-Healthcare Academy. Following a year of earning good grades in co-requisite courses, including anatomy & physiology, psychology and statistics, she and other academy students are immediately accepted into the healthcare program of their choice at MWCC. In less than three years, she will be graduating with her nursing degree and practicing in a field she loves, she said.
Lundgren, who also coaches field hockey at Mahar, advised the students to pursue their dreams.
"Follow your heart."
Go Higher!, previously known as Go Public! gives Massachusetts high school students a chance to discover the programs and opportunities available at the state's 29 public college and university campuses. The event at Monty Tech launched a series of statewide events that will take place at various high schools throughout the academic year to promote science, technology, engineering and math (STEM) programs.
Secretary Peyser encouraged the high school audience to take a close look at the Commonwealth's 29 public community colleges and universities for the abundance of program options that cost a fraction of private institutions.
"Massachusetts public higher education has a program and a course of study for you. Like all things in life, you get out what you put in," he said.
Commissioner Santiago noted that two-thirds of all college students in Massachusetts are enrolled in the state's public institutions. "College will transform you," he said.
Monty Tech Superintendent Sheila Harrity and the Massachusetts Department of Higher Education hosted the event, which was also attended by State Rep. Stephen DiNatale.
In addition to Lundgren, students representing UMass Lowell, Fitchburg State University, Worcester State University, Quinsigamond Community College and Massachusetts Maritime Academy also spoke about their college experiences.