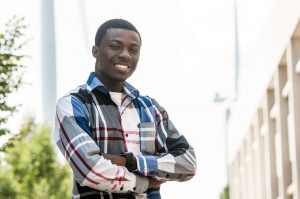 Louis Ayisi, a pre-engineering student at Mount Wachusett Community College, is one of 15 students selected for the 2015-2016 i-Trek research team at the Massachusetts Institute of Technology. The competitive program is open to undergraduate students from varying schools who are currently pursuing a degree in science, technology, engineering or math (STEM) and are interested in gaining research experience.
i-Trek (I Turn Research into Empowerment and Knowledge) provides undergraduates students with support as they conduct a self-defined, community-based research project. Working with MIT mentors and professors, students select a research project, work together as a virtual team during the school year, then return for a two-week data collection trek the following June at a location selected by the team.
Along with defining and executing their research ideas, students are guided through the process of funding, organizing and publicizing their research. At the end of the project, team members lead a STEM-focused outreach initiative for high school students based on their research. Participants gain research skills, grant and fundraising experience, and leadership skills to help make them competitive candidates at a graduate institution.
The team's project, proposed by Ayisi, will focus on the conversion of waste products into energy and clean water.
Following a semester of college in Ghana, Ayisi moved to the U.S. in March 2014 to continue his studies. The Leominster resident selected MWCC for its strong pre-engineering program and transfer opportunities.
"I was attracted to the Mount's motto, 'Start Near…Go Far.' I said to myself, 'This is exactly what I want to do,'" Ayisi recalled. "The pre-engineering curriculum was strong and transferable toward a bachelor's degree at the universities I was interested in." He was accepted this spring into Carnegie Mellon University, Purdue University, Worcester Polytechnic Institute, Harvey Mudd College and the University of Minnesota Twin Cities, to name a few.
This fall, the 21-year-old is transferring to Carnegie Mellon on a generous university scholarship to pursue a bachelor's degree in chemical engineering. While at CMU, he will simultaneously complete his associate degree at MWCC. He plans to return to the Gardner campus in May for Commencement. After earning his bachelor's degree, he intends to enroll in graduate school and ultimately work as an engineering consultant and professor.
Ayisi attributes his academic success to the support he received from his faculty and staff mentors at MWCC, including Professors Aliza Miller, Shawn Case and Peter Olszak; Janice Barney, Dean of the School of Business, Science, Technology and Math; Sharmese Gunn of the division of Access & Transition; President Daniel M. Asquino and the college administration; and the MWCC Foundation. He is one of MWCC's STEM SET scholars, a program funded through a grant from the National Science Foundation; a member of the STEM Starter Academy, a program funded by the Massachusetts Department of Higher Education; and the college's TRIO Visions Program.
Among many academic and civic activities, he is a member of the Honors Program, the Phi Theta Kappa Honor Society, the National Society of Leadership and Success honor society, the National Student Math League, and Who's Who Among Students in American Colleges and Universities. He served as a student ambassador in the admissions office, as president of the Math Club, as a calculus and chemistry tutor in the college's Academic Support Center, as a math tutor at the Boys & Girls Club of Fitchburg and Leominster, and as a volunteer during the United Way Day of Caring.
Ayisi was named to the President's List for academic achievement during each of his semesters at MWCC, and this spring, was the first recipient of the Roberts Scholar Award, named in memory of long-serving administrator Glenn Roberts. He also was a student speaker at a higher education advocacy event at the Statehouse, and during a state DOE event in Worcester with former Governor Deval Patrick.
"I was motivated and honored to be involved," Ayisi said. "At the Mount, the people are near and dear, and they can empower you to reach your dreams. Every student should realize the Mount is a well-positioned catapult, ready to send its students wherever they want. Just fix yourself in it, and let the sky be your stepping stone," he said.
"Louis exemplifies the best sort of student who takes every opportunity to participate and explore, all while challenging himself to excel," said Dean Barney. "It has been our privilege to work with him at the start of his educational path, and we stand proudly behind him while he continues his journey toward future excellence."