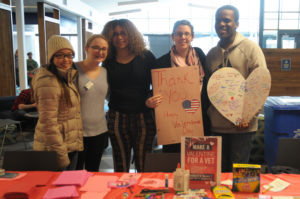 Mount Wachusett Community College students created 135 handmade Valentine's Day cards that have been distributed to veterans in thanks for their service.
"Veteran's get cards during Christmas, Thanksgiving and of course Veteran's Day but not during Valentine's Day and I thought it would be cool to do Valentine's for Vets," said MWCC Students Laryssa Truesdale who organized the card creation as a Student Leaders in Civic Engagement project.
Students were encouraged to make a card and share a message of thanks to a veteran. The cards were created over the course of two days, with over 256 students participating in either creating their own card or signing two large Valentine's Day cards that will be distributed to MWCC's Veterans Center and the Montachusett Veterans Outreach Center, Inc. in Gardner. The individual cards will be sent to Veterans Homestead in Gardner, the Gardner VFW, and the Veterans Hospital for Wounded Warriors in Washington, D.C.
This kind of appreciation is important, said Bob Mayer, Director of Veteran Services at MWCC. Veteran students on campus feel supported every day by faculty, staff and students, he said, but gestures like this are still meaningful.
"The veteran students here at Mount Wachusett Community College enjoy a friendly, supportive environment," said Mayer. "This particular program is one way that our veteran students enjoy the respect and admiration of their fellow students… I believe respect is a wonderful thing. One of its virtues is that it's contagious."
The Valentine's Day cards were created on Jan. 31 and Feb. 1 so that they could be distributed in time for Valentine's Day.