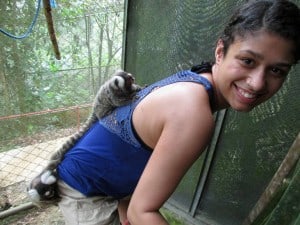 Over the past two decades, civic engagement and volunteerism have become a hallmark of a Mount Wachusett Community College Education. As part of this experiential learning philosophy, a group of student volunteers traveled to Costa Rica for a week of service they describe as a life-changing experience.
MWCC students Cathy Teague, Jana Murphy, Chelsea Garrity, Shannen Pimental, Kelly Hillman, Karen Chapalonis, Esther Rivera and Justine Pottinger were joined by Associate Dean of Students Greg Clement and Shelley Errington Nicholson, Director of the college's Center for Civic  Learning and Community Engagement.
"I was excited about the idea of exposing students to a new culture and engaging in meaningful service," Errington Nicholson said.
Despite a slight travel delay in Miami due to the eruption of the Turrialba volcano in central Costa Rica, and an unexpected encounter with a large bat during an evening rainforest hike, the experience "was truly enriching for everyone who participated," Errington Nicholson said.
The group's first project was at an animal sanctuary where they rehabbed cages for sick animals with African palm trees, which are huge an unwieldy. They scrubbed walls and raked dirt all while monkeys, birds and other creatures crawled on and around them. Their next project was with a local school, where they were welcomed with a cultural performance, dressed in traditional Costa Rican garb and learned a national dance. At this site, the volunteers sorted school supply donations, built garden beds and planted cilantro seeds.
The final service project began at sunrise, before breakfast, working with local farmers to plant yuca and learn about sustainable farming and agriculture.
The group also participated in various activities such as a biodynamic farm tour, a night hike in the rainforest, parasailing, zip lining and horseback riding. Every evening they gathered for dinner of fresh fish, fruit, vegetables, rice and beans to reflect on what they learned and experienced that day. Students were able to ask questions of the local guide to further contextualize their service.
"This international service trip was a life-changing experience," said Rivera. "It opened our eyes to a completely different way of living and culture. From helping with the monkey cages, to planting for the local schools and farmers, every service job was something learned to take home with us."
The volunteers included students from a variety of background and traveling experience from the more experienced, to one student who had never been outside of New England.
"We had students who were adventurous by nature and others who had to learn to embrace their sense of adventure, especially when confronting the lizards who shared our rooms at night," Errington Nicholson said.
"The people of Costa Rica were welcoming, gracious and made us feel like their honored guests. We were truly humbled by the warm welcome we received, by the spirit of openness and love that was evident as a part of the Costa Rican culture," she said.
"I will not look at life the same," said Teague, who has served this past year as MWCC's Massachusetts Campus Compact AmeriCorps*VISTA.
"This trip was truly inspirational because I was able to experience many cultural differences, at the same time I was able to make a meaningful impact in their communities. During my time there I was able to find out more about myself than ever before. I felt like I found myself, and that's an amazing feeling."