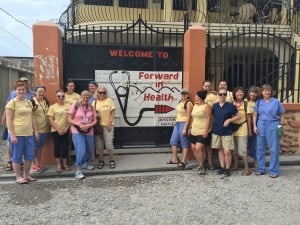 A weeklong medical mission in Haiti gave a team of Mount Wachusett Community College students and faculty a close-up look at poverty in one of the world's poorest countries, and an opportunity to do something about it.
The students and educators traveled to Fonfred, Haiti in January with MWCC nursing alumna Paula Mulqueen, who with her husband, Dr. John Mulqueen, founded the nonprofit Forward in Health to bring much-needed medical care to the Les Cayes region of Haiti. This past fall, the Gardner couple's dream came to fruition when its Fonfred Klinik opened its doors after more than a decade of fundraising, construction and medical missions in temporary clinics.
The MWCC volunteers included nursing students Cassandra Pateneaude, Amy Moisan and Jessica Lugudde; Interdisciplinary Studies – Health majors Tiffany Cunningham and Isabella Smith; nursing professors Katherine Pecorelli and Donna Tully, and Marianne Stoy, administrative assistant for MWCC's School of Health Professions, Public Service Programs & Social Sciences. This is the second consecutive year that Paula Mulqueen, a 1994 graduate of MWCC's nursing program, brought a group from her alma mater.
While in Haiti, the MWCC team of volunteers helped organize supplies at the Fonfred Klinik, with assistance from University of Massachusetts Lowell civic engineering students and other volunteers. They toured the region's nursing school and taught multiple classes of CPR. They also held a mountain clinic where they assessed approximately 100 patients, visited an orphanage run by the Sisters of Charity, and provided children with lessons on health and dental hygiene. Professors Pecorelli and Tully also led a discussion on depression and treatment with nurses and a doctor at the clinic.
Without access to health care, even the most common of ailments than can be cured with over the counter medicines in the U.S. can become full-blown health issues in Haiti when left untreated, such as respiratory illness and skin infections. Klinik Fonfred is a primary care clinic providing life-saving healthcare to a community of 18,000 poor adults and children from birth through adulthood in the Fonfred area.