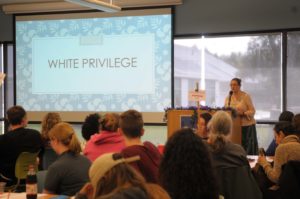 White privilege was the topic of discussion at Mount Wachusett Community College's Tea Time Speaker Series on Monday, Oct. 30th. The discussion centered on whether the gathered students, faculty and staff felt white privilege exists, how privilege influences their lives and what there is to do about privilege.
"White privilege is how we present to others," said keynote speaker Shelley Errington Nicholson. "I get privilege in society. I do. I get the benefit of the doubt because my skin is white… I didn't earn that privilege. I didn't ask for that privilege but I need to acknowledge it."
Nicholson said this dialogue was designed to get participants to think about white privilege and exam their own privileges as well as any systemic disadvantages based on their race. The constructive conversations took place in groups of six to eight people.
"I do believe it fits squarely in our mission to bring things up to discuss at a deep level with one another so we can learn from one another, so that we can grow with one another, so that we can challenge one another, and so we can gain a better understanding of ourselves and our society and how we can take steps to improve our communities," said MWCC President James Vander Hooven.
Nicholson is currently a doctoral candidate in Educational Policy and Leadership at the University of Massachusetts Amherst. She is also pursuing a graduate certificate in Advanced Feminist Studies. She is the co-editor of the text Empowering Women in Higher Education and Student Affairs: Theory, Research, Narratives and Practice from Feminist Perspectives. In her current role at Mount Wachusett Community College as the Director of the Senator Stephen M. Brewer Center for Civic Learning and Community Engagement.
Operated by MWCC Gateway to College Senior Resource Specialist Sharmese Gunn, the Tea Time Speaker Series fosters conversation among the college community and greater community on social and cultural issues and awareness. The event took place at MWCC's Gardner campus in the South Café.