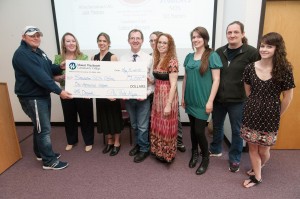 This spring, MWCC's Phi Delta Chapter of the Phi Theta Kappa international honor society inducted 85 new members, and presented sizeable donations to community organizations from funds raised through a variety of events.
During the chapter's induction ceremony on May 4, chapter officers and members presented a $750 check to the Gardner Community Action Council, a $750 check to the Winchendon Community Action Council, and a $1,000 to the student-run Students Serving Our Students program at MWCC.
New inductees include: Marcus Altman, Justin Arsenault, Louis Ayisi, Ivy Benoit, Yvonne Bentley-Wandless, Thomas Berger, Adam Bergeron, John Blombach, Bryce Bodley-Gomes, Cynthia Boucher, Kaci Bradshaw, Lisa Clark, Kyle Cole, Emanuel Corbeil, Tiffany Cranfill, Rebecca Daniel, Carrie DeCosta, Bianca DiGiannantonio, Khaien Donawa, Julie Edwards, Krista Felaco, Roxanna Figueroa, Francisco Figueroa-Vazquez, Cassandra Fontaine, Chantal Froystein. Dawn Fuller, Carly Gagne, Sara Gallant, Paul Galvin, Chelsea Garrity, Corinne Goodrich, Jamie Grant, Celine Grimley, Paulette Hachey, Stephen Hall, Kaitlyn Jozefiak, Yasmine Kanaan, Carol Karuci-Mirolli, Sara Khan, Helen Koge, Rose LaFargue, Emily Lapinskas, Cassondra Lavigne, Samantha Lazo, Kimberley LeBlanc, Elie LeMieux, Leslie Lupien, Paula Lynde, Trevor            Malerbi, Tammy Mariani, Leanne McCarthy, Ellen McGahan, Catherine Migwi, Marissa Mitchell, Lauren Molnar, Jana Murphy, Eliud Mwangi, Dorcas Mwathi, Kimberli Nutting, Todd Perry, Michelle Racette, Karren Ricci, Bryan Richard, Magaly Rios, Nathan  Roberts, Tasha Rocheford, Darlene Rossi, Angelica Ryan, Erik Salmonson, Jacqueline Scribner, Brendan Shea, Jennifer Snow, Trenton Solomon, Silvana Sosa, Phillip Stan, Rachel Sullivan, Teresa Tambling, Austina Towle, Aaron Trudeau, Mary Volpe, Christopher Waye, Melissa Wilbur and Robert Williams.