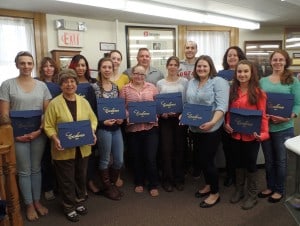 MWCC students enrolled in a range of academic programs and involved in numerous activities have been selected as national outstanding campus leaders and will be included in the 2016 edition of Who's Who Among Students in American Colleges and Universities.
The 44 students were selected based on their academic achievement, service to the community, leadership in extracurricular activities and the potential for continued success. They join an elite group of students from more than 1,000 higher education institutions in the United State and several other countries. The tradition of recognizing noteworthy college students in a Who's Who biographical volume began in 1934.
This year's honorees are: Alyssa Adoretti, Thayna Aguiar, Joseph Almeida, Marcus Altman, Jasson Alvarado Gomez, Arturo Aponte-Cruz, Bella Ballin, Andrea Bartlett, Thomas Berger, Aleisha Berthiaume, Levi Bushnell, Aurea Carrion, Karen Chapalonis, Michel Cocuzza, Emanuel Corbeil, Elizabeth Cross, Kevin Figueroa, Nelida Figueroa Lopez, Jennifer Gariepy, Trevor Hansen, Thomas Hill Jr., Tatjana James, Alana Jones, Bethany Jones, Sara Khan, Stevie LaBelle, Julia McHugh, Kimberly Mertell, Nathan Morris, Jana Murphy, Hillary Nna, Camila Pereira, Marymar Perez Cruz, Shannen Pimental, Rebecca Pincott, Michael Racine, Christian Rossi, Ellen Smith, Benjamin Spurr, Jari Squire, Cathy Teague, Leah Trudeau, Ashlie Visco, and KellyWilliams.