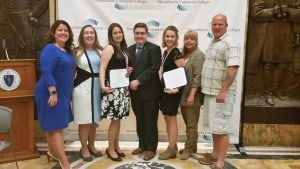 Two Mount Wachusett Community College students, Jana Murphy and Chelsea Garrity, were selected for the All-Massachusetts Academic Team of Phi Theta Kappa Honor Society today at Nurses Hall of the State House in Boston in recognition of their academic excellence. The celebrations included a speaking program, presentation of awards, and lunch. Secretary of Education Jim Peyser delivered the special keynote focusing on the value of students who strive for excellence.
Jana Murphy has been a member of Phi Theta Kappa for two years. This year, she served as the student representative for the Honors Program, the President of Phi Theta Kappa, and as a Student Leader in Civic Engagement. Jana always strives to make sure that programming she is involved with is student-centered and community focused, with the unusual ability to be unreservedly honest but always respectful.
Chelsea Garrity is a first generation college student who has worked at least two jobs at a time over the past three years to put herself through college. She serves as a Student Leader in Civic Engagement at MWCC, where she coordinated this year's Day of Caring event and recruited over 100 volunteers to package over 20,000 meals in just a few hours.
The Phi Theta Kappa Honor Society and community college presidents co-sponsor the All-State Academic Team, where high performing Phi Theta Kappa members are selected for nomination and ranking on the team is determined by each student's score in a national competition.
"We are so proud of our students and the hard work that brought them to the State House today to be recognized," said Lea Ann Scales, Vice President of External Affairs, Communications & K-12 Partnerships.
Students are eligible for nomination by their College president if they have earned a minimum cumulative 3.5 GPA and have significant community service. Once selected they are eligible for additional scholarships provided by the Coca-Cola Scholars Foundation.