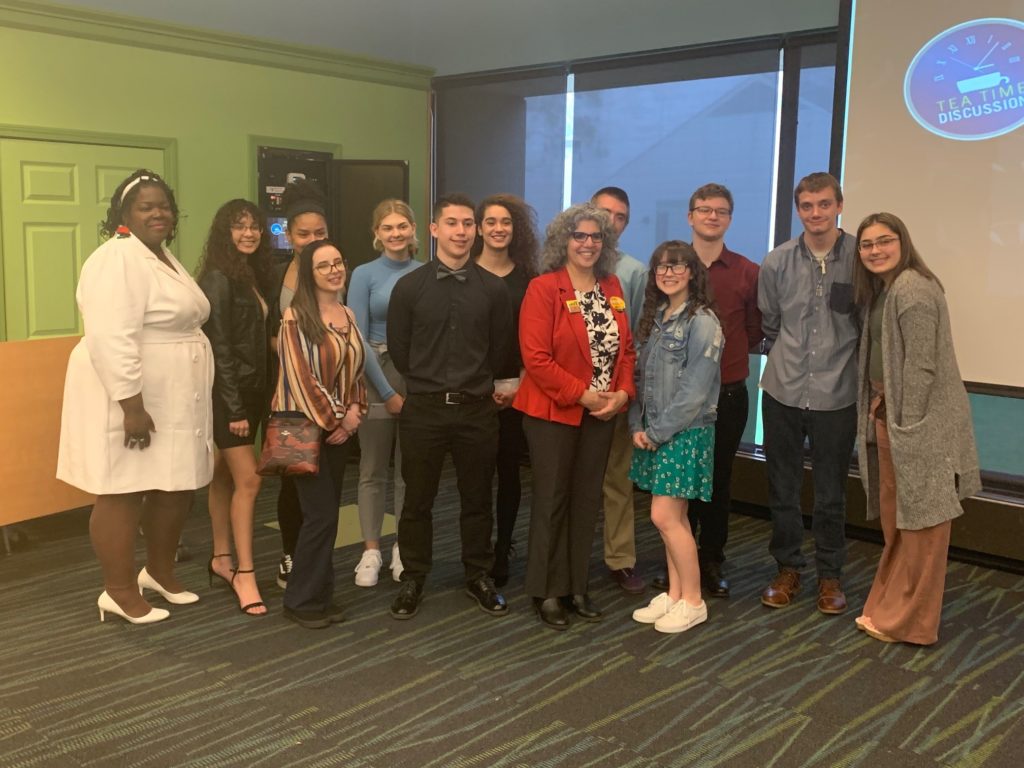 As part of the YWCA's "Stand Against Racism" series, seven Mount Wachusett Community College Gateway to College students recited the Stand Against Racism Pledge at the April 26th Tea Time series event.
MWCC is one of more than 140 organizations in recent years that have participated in the series and embraced its vision to eliminate racism and celebrate multiculturalism and the value of diversity.The students who participated in the pledge:
Brian Johnson, of Athol – Introduction to Pledge
Jennifer Bentiz, of Leominster- pledge in Spanish
Sidney Myers, of Gardner – pledge in English
Julie Augiar, of Leominster – pledge in Portuguese
Dylan Morrison, of Ashby – pledge in German
Taylor Foley, of Harvard – pledge in French
Elielka Encarnacion, of Leominster in Spanish
The event's keynote speaker, Massachusetts Teachers Association President Merrie Najimy, urged for the creation of more welcoming, inclusive environments for students.
"We recognize access to education as a civil right and are committed to protecting our students and their families from persecution and mistreatment based on where they come from or what they look like. We acknowledge the richness in our differences and know that the only way to combat hatred, racism and xenophobia is through education. But that education must be delivered in an environment where we can actually address our students' needs, introduce an array of culturally relevant materials and have the time to build authentic relationships," said Najimy.
MWCC Gateway to College Resource Specialist Sharmese Gunn, who leads the student and staff team organizing Tea Time events said, "Introducing and exposing our students and community members to diverse events and dialogue is crucial in 2019. Exposure and critical thinking is one way to Stand Against Racism especially in North Central, MA. One community at a time."
The event closed with the song "Rise Up" sung by student Sadie Kennedy. Gateway to College student Jon Moss moderated the event.
The event was sponsored by: Gateway to College, MWCC President's Office, MWCC Leading for Change Diversity Consortium, The North Central Massachusetts Minority Coalition/Three Pyramids Inc. and CHNA9 Racial Justice Community Health Improvement Plan (CHIP).