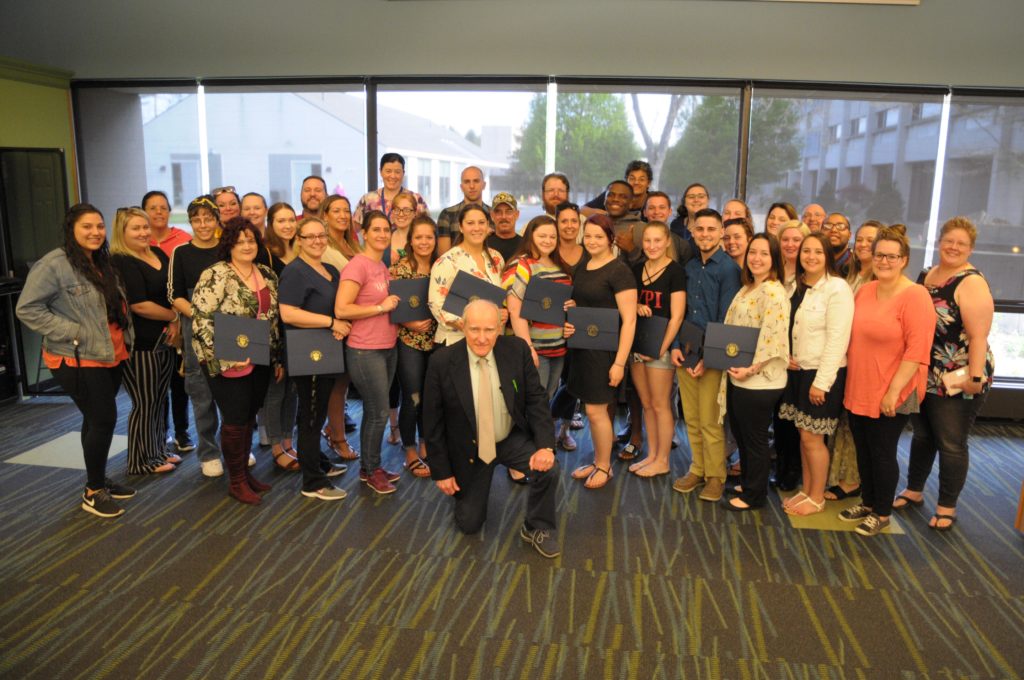 On Wednesday evening, the Senator Stephen M. Brewer Center for Civic Learning recognized over 113,000 hours of volunteerism from students and singled out a number of students and organizations for specific recognition.
This academic year, 1,544 MWCC students preformed 113,636 hours of service to the community with volunteer efforts continuing from non-graduating students. Based on hourly wage averages for the state of Massachusetts, this is a total of $3,653,397.40 in value in volunteer time to North Central Massachusetts."Deeds exceed words every day of the week," said Senator Stephen M. Brewer at the Service Learning and Volunteerism Celebration. "What you do is make a difference in people's lives."
Students who volunteered over 100 hours were recognized for their efforts at the celebration. MWCC President James Vander Hooven commended the students for their efforts, which often came on top of other obligations beyond school, such as jobs and their families.
"It is nice to see the faces behind the hours and to know in addition to your coursework and your life responsibilities… you have still found it in your heart and in your valuable time to serve others. Congratulations and thank you all for that," said MWCC President James Vander Hooven.
In addition to the students honored for their 100 hours, or more, of service, individuals and organizations were also honored.
Brittany Waseleski of Leominster was awarded the Hillary Bartlett Newsome Service Learning Scholarship in memory of Hillary Bartlett's spirit of giving back to the community. Bartlett was a 2009 graduate of the Mount's Early Childhood Transfer program who passed away unexpectedly in 2017.
MWCC Professor Sue Blake received the Faculty Civic Engagement Award for her dedication to providing students with additional learning opportunities through her involvement with the National Endowment for the Humanities project. Linda Buldoc was presented with the Retiring Staff Recognition award. The Sharyn Rice Award was given to student Lisa Ferrara-Caron of Westminster.
Student Jonathan Lerew of Westminster was awarded the Service Learning Scholarship. The Above and Beyond Award was presented to the Human Services Club and Ginny's Helping Hands was recognized as the Community Partner of the Year. Cassparina Carlson of Gardner was also honored for being selected as the school's 2018 Newman Civic Fellow award winner.