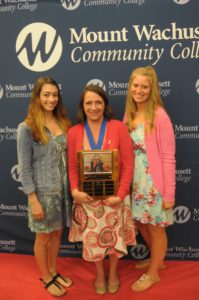 On Tuesday evening, 261 students were recognized for giving back over 125,000 hours of volunteerism efforts that Mount Wachusett Community College estimates are equivalent to a $2.5-$3 million value.
"When you think about the collective impact, it's more than just a number. Imagine if all of this just stopped tomorrow," said Shelley Errington-Nicholson, Director of the Senator Stephen M. Brewer Center for Civic Learning and Community Engagement, reflecting on the event. "This community would look very different if our students and their clubs weren't committed to volunteering year after year, if our faculty weren't committed to offering service learning as part of the academic experience. This is a lasting impact because, by and large, our students grow up in these cities and towns and they're going to stay here," she said.
"I'm in awe of you because I know you were too busy to volunteer," President James Vander Hooven told students on May 15. "You had to go to work, or take care of your family, or study for an exam, and yet you figured out a way to carve out some time to help others."
"Changing the world – even for one person or for one day – is very important and very special," said Senator Stephen Brewer. "It all starts with you."
Terri Alden of Orange was awarded the Hillary Bartlett Newsome Service Learning Scholarship in memory of Hillary Bartlett's spirit of giving back to the community. Bartlett was a 2009 graduate of the Mount's Early Childhood Transfer program who passed away unexpectedly in 2017.
Professor Emerita Maryann Kane of the Early Childhood Education department received the Faculty Civic Engagement Award. "Maryann, thank you is not sufficient for your years of dedicated to service inspiring generations of new teachers," said Errington-Nicholson.
Sybil Sinclair of Ashburnham was awarded the Service Learning Scholarship. The Above and Beyond Award was presented to the Student Nurses Association, which conducted a year-long awareness campaign to train students and community members in hands only CPR in addition to collecting 232 pounds of food donations for the campus food pantry. Clear Path for Veterans New England was recognized as the Community Partner of the Year for its holistic approach to helping returning vets and for offering a site for service learning students in both marketing and nursing.
In addition to their volunteer efforts, some students were recognized for additional volunteer-based work. These students were Student Leaders in Civic Engagement, Laryssa Truesdale and Tammy Goodgion. Goodgion put forth the largest effort by a graduating student this year with 358 hours of service.
The SOS (Serving Our Students) interns for the year Cristen Comptois, Marie Ewing, Tammy Goodgion, Elise Hamblett, Sybil Sinclair, Laryssa Truesdale, Jacob VanHillo, and Jacquelyn Vokey were also recognized. Cristen Comptois was also honored for being selected as the school's 2018 Newman Civic Fellow award winner.
The students who were honored for their volunteer efforts were:
Acton
Cintia Andrade de Menezes
Rosimar Bonicenha
Ashburnham
Genevieve David
Katherine Herndon
Ashley Perez
Lacy Phongsaly
Sybil Sinclair
Brianna Stone
Haley Visconti
Ashby
Paula Farley
Kailey Lang
Athol
Matthew Applin
Allison Aucoin
Crystal Bentley
Heather Chadsey
Elizabeth Gagnon
Jennifer Harrington
Alicia Lachance
Michelle Leavitt
Amanda Melanson
Natallea Rodrigues
Naomi Wood
Ayer
Brittany Bechtel
Malcolm Mathis
Denise Perrault
Baldwinville
Julie Ehnstrom
Leanne Gauthier
Kimberly Morris
Kelsey Rayner
Barre
Kathryn Fenlason
Sarah O'Sullivan
Bolton
Maxwell Dischler
Boxborough
Susan LaForest
Burlington
Mariam Ssozi
Chelmsford
Katelyn Keefe
Clinton
Ashley Arsenault
Kelly Hillman
Edna Lopez
Jennifer Lopez
Johnathan Lucht
Jennifer Noel
Devens
Kabilgangai Subramanian
Dracut
Sheila Salaverry
Noelle St Martin
Dudley
Laurie Guerin
Mikeala Kozlowski
Dunstable
Jeremy Ralls
Erving
Justine Pottinger
Fitchburg
Rachel Adams
Elizabeth Campbell
Micaela Canessa Giorello
Carlington Clarke
Andrea Conrad
Tamra Corliss
Ulric Eubanks
Leah Fletcher
Kelly Gorham
Charlie Hollins
Chantell Jimenez
Destiny Johnson
Zachary Kane
Trevor Leger
Kimberly Mertell
Ashley Monroe
Freda Nazziwa
Kelsey Parmenter
Bryant Quinn
Diosmar Reynoso
Sophia Richardson
Jasmin Ruiz
Shanneah Santiago
Cathy Scottfenton
Marry Sivilaythong
Jennifer Smith
Framingham
Jacqueline Fernandez
Esi Mensah
Gardner
David Acevedo
Annastasia Anderson
David Belitsky
Stephanie Borkowski
Christina Bruce
Elizabeth Casson
Sadiya Clark
Kimberly Cook
Briana Cormier
Katrina Cote
Bertha Dancause
Sadie deBettencourt
Zechariah Dietz
Krystal Flagg
Moses Gomez
Rachael Grammont
Tyler Klash
Timothy Landry
Elizabeth LaPan
Nicholas Mackowiak
Katrina McGarry
James Meagher
Jamika Nance-Garcia
Timothy Nowlan
Nathan Oliva
Karen Pietila
Samantha Provonsil
Erin Richard
Estephany Rodriguez
Amy Rogers
Louise Russell
Mitchell Smith
Emilia Torres
Laryssa Truesdale
Tracy Wirtanen
Holden
Bridget Donovan
Abigail Mascitelli
Adrianna Nathan
Samantha Zaines
Hubbardston
Cristen Comptois
Elizabeth Fowler
Jefferson
Jeffrey Falls
Lancaster
Marisa Crowley
Melanessa Noel
Celina Stacy
Leominster
Gabriel Caetano
Renee Caissie
Romolo Cataldo
Karen Cormier
Allison Correa
Mary Crumpton
Kiana Delgado
Melissa DelValle
Abigail DeSimone
Matthew Diaz
Angela Douthwright
Melissa Gonzalez
Alexandra Hall
Hieu Huynh
Danielle Johns
Donna King
Adrianna Laurano
Amanda L'Ecuyer
Gina-Maria Lemoine
Jean Lohier
Alexandria Melanson
Helen Mendez
Kao Moua
Fiona Muriuki
Kennedy Owino
Sarah Piche
Daniel Richard
Kim Self Wright
Jason Shattuck
Augustine Tetteh-Quarshie
Tatiana Vazquez
Dawn Veino
Jacquelyn Vokey
Aja Williams
Heidi Wilson
Molly Winand
Littleton
Michael Niall
Lowell
Lebga Gwanvalla
Racheal Walker
Lunenburg
Kelsey Belair
Florencia Carneiro
Samuel Crisci
Daria Cunningham
Matilda Hayes
Adam Nano
Marlborough
Paolo Molina
Northbridge
Kaila Chase
Orange
Terri Alden
Elizabeth Cross
Jaclyn Esparza
Tammy Goodgion
Jennifer Lamontagne
Kaila Lundgren
Paxton
Nga Le
Kayla Shabo
Pepperell
Cameron Clermont
Emily Mayle
Shannyn Pomeroy
Peterborough
Katelyn Souther
Petersham
Alec Goodale
Phillipston
Tyler Gearin
Jacob Hammond
Olivia Howes
Revere
Winda Flammia
Rutland
Alexis Fischer
Kayla Romanski
Laura Teves
Salem
Ashley Ferris
Shirley
Crystal Maki
Amber Seppala
Shrewsbury
Tristen Hafford
South Barre
Lindsey Clarkson
Southborough
Gisela Rezende
Spencer
Linda Maher
Mary Remillard
Springfield
David Anderson
Sterling
Kelley Canali
Catherine Castagnaro
Michael Lanciani
Sturbridge
Melissa Denham
Templeton
Shelby Arsenau
Adam Brown
Jaclyn Cartee
Lindsey Hastings
Kelsey Vaillancourt
Heidi Whittle
Townsend
Jonathan Blouin
Kaitlyn Fales
Peter Geanacopoulos
Nicholas Grube
Sherry Langlois
Sarah Merrill
Mark Oberg
Elizabeth Schatia
Melissa Senecal
Turners Falls
Erin Couch
Warwick
Samantha Peters
Amy Ross
Webster
Gerrianne Owens
Erika Valentin
West Boylston
Maria Benson
Michelle Kooyomjian
Stephanie Wronski
West Townsend
Emily Seeley
Nichole Trovato
Westford
Erin Auger
Donna Slattery
Westminster
Kristin Grantz
Bryanna Hache
Taylor Rameau
Brian Richard
Samantha Shippell Stiles
Justina Smith
Gina Vilayphone
Wilbraham
Christopher Monette
Winchendon
Madeline Allard
Nicholas Coddington
Elise Hamblett
Stephen Larson
Scott Ploskonka
Teresa Tambling
Worcester
Karen Benitez
Ashley Kabasinksy
Marlena McKenzie
Jenifer Nancy Ndungu
Brian Neak
Dana Quartey
Katalina Rivera
Cassandra Tousek
Xuan Thanh Tran
Hannah Woodward
North Grosvenordale, CT
Amanda King
Jaffrey, NH
Courtney Emond
Keene, NH
Tayla McAlpine
Mason, NH
Samantha Landry
New Ipswich, NH
Ashley McHugh
Rindge, NH
Elie LeMieux
Nathan Robichaud
Danica Sauvola
Troy, NH
Linda Mclean
Pittsburgh, PA
Louis Ayisi