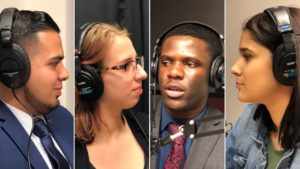 Four graduates from Mount Wachusett Community College took time during the recent Early College Day at the Massachusetts State House to talk about their experience with dual enrollment programs at MWCC on a podcast operated by the Massachusetts Institute for a New Commonwealth.
During the interview, Alexander Ramos Jr., Audreana Houck, Tremaine Pinnock, and Amore Frazier all discussed the opportunities that taking college courses during high school afforded them. 
"You're saving a lot of time and you're saving a lot of money," said Tremaine Pinnock. 
The full podcast is available below, with the interviews with students beginning at the 13 minute mark. 
In addition to the former Gateway students, the hosts spoke with Massachusetts Commissioner of Higher Education Carlos Santiago in the beginning of the podcast. The latter portion of the podcast features MWCC's Vice President of Enrollment & Public Affairs Lea Ann Scales and MWCC's Assistant Dean for K-12 Partnerships and Civic Engagement Fagan Forhan and Karen Frank Mays from Fitchburg State University.