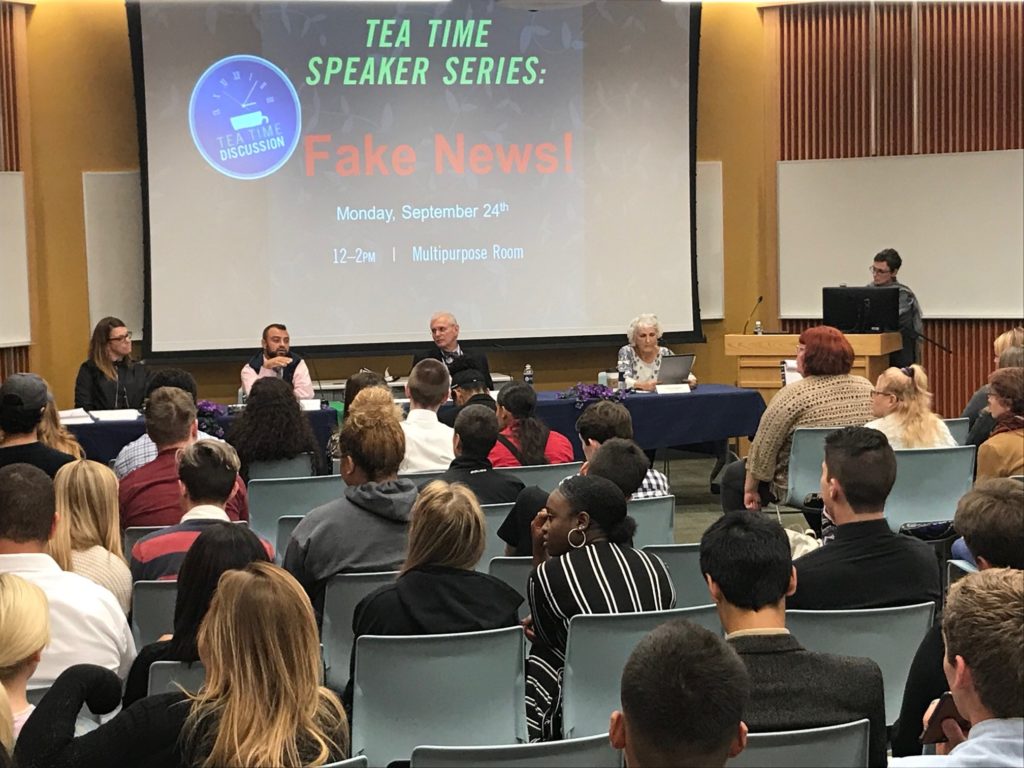 From "news not based on fact" to news that "toys with your emotions" to "lies to achieve a certain end", the definition of fake news took center stage yesterday at the first Mount Wachusett Community College Tea Time Series panel discussion of the school year. The discussion, moderated by MWCC Professor Michelle Valois, also delved into the issues of news media bias and the responsibility of consumers to evaluate the legitimacy of their news sources.
Speaking before students, faculty, and staff, the panelists challenged the audience to be informed consumers of the news who recognize the difference between news sources that follow a professional code of journalistic ethics and those that do not. At several points, they cautioned audience members to be wary of instantly available news.
With the advent of social media, "every story is now a breaking news story" said Susan Goldstein, MWCC professor of English. Goldstein recalled that social media sources "got it wrong" following the Marathon Bombings in 2013, but that the Boston Globe was more accurate because it did not publish information until it had confirmed the facts.
"MIT research tells us fake news travels six times as fast as regular news," said Ellen Pratt, MWCC Distance Education and Outreach Librarian. She asked audience members to consider that each of us risk playing a role in perpetuating inaccurate stories when we carelessly share information via social media. She added that, given more time, professional journalists can research and confirm legitimate stories. "Individual consumers of news should recognize that news professionals need time to get it right," said Pratt.
Sam Bonacci, MWCC Communications Manager, suggested that consumers read the entire article instead of only the headlines. He recommended that consumers "triangulate news sources" from multiple viewpoints to check the biases of their news sources and confirm the facts.
The Telegram's Anthony Simollardes described that, while all journalists form personal opinions, professional standards of fairness require that they also tell the other side of the story.  "If you don't recognize your opinions, you will fall into a trap as a journalist," he said.
Simollardes asked audience members to be conscious of imagery as well as words.  Editorial decisions about how to visually represent an article can be very impactful, he said. Pratt added that audience members should consider whether the language of an article is inflammatory, whether the caption is accurate, whether the headline "pulls at your heart." Simollardes advised consumers to ask themselves "is this meant to get a reaction out of me as opposed to giving me information?"
Valois, professor of English and coordinator of the college's grant from the National Endowment for the Humanities, moderated the discussion. Members of the panel were Editorial Pages editor for the Worcester Telegram & Gazette Anthony J. Simollardes, MWCC professor of English and advisor to MWCC's student newspaper The Observer Susan Goldstein, MWCC Distance Education and Outreach Librarian Ellen Pratt, and MWCC Communications Manager Sam Bonacci.
The MWCC Tea Time Speaker Series fosters conversation among the college community and surrounding community on social and cultural issues and awareness. The Tea Time Speaker Series is coordinated by Sharmese Gunn and sponsored by Gateway to College, Mount Wachusett Community College's Leading for Change Diversity Consortium, The North Central Massachusetts Minority Coalition/Three Pyramids, Inc, and The MWCC Humanities Project that has been made possible in part by a major grant from the National Endowment for the Humanities.