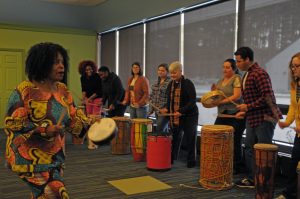 Mount Wachusett Community College is set to celebrate Black History month with a series of five events that include speakers, performances and screenings to educate and engage students at the college.
The month of programming begins with the Bamidele Dancers & Drummers (BD&D) leading a drum circle of celebratory African rhythms on Feb. 1 at 12:30 p.m. The BD&D are art educators, composers, musicians, dancers and choreographers from Africa, the Americas and the Caribbean who are dedicated to the preservation of African and African rooted cultures through dance, music and song. They will lead an interactive drum circle.
A screening of the film Race, which explores the story of Jesse Owens, will take place on Feb. 8 at 12:30 p.m. The THINKFAST: Black History Month Game Show will take place on Feb. 9 and ask students to test their knowledge of Black History Month. On Feb. 22 at 12:30 p.m., the PBS film Underground Railroad: The William Still Story will be screened telling the story of the African-American abolitionist who was a conductor on the Underground Railroad, writer, historian and civil rights activist.
On Monday, Feb. 27, a keynote speaker will discuss barriers of woman of color in the workplace, education, and healthcare. The Tea Time Speaker Series presentation will take place from 12 to 1:30 p.m.
All events are open to the public.