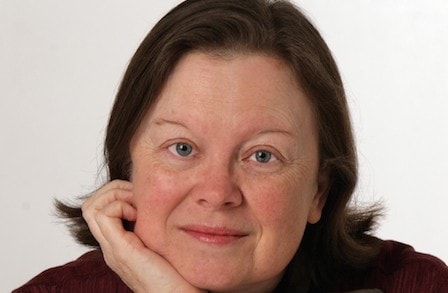 Mount Wachusett Community College will host nationally acclaimed poet and author Diane Gilliam Fisher for a reading of selections from her book "Kettle Bottom" on April, 6.
"When Diane Gilliam Fisher reads from "Kettle Bottom," she performs the poetry and resurrects the poignant voices of the past with an undeniable authenticity," said MWCC English Professor Lorie Donahue who helped organize the reading. "She often intersperses the readings with details regarding the development of the work, allowing the audience a deeper understanding of her process. With quiet power and intensity, she really holds onto the room."
"Kettle Bottom" is Fisher's award-winning book of poetry that explores the West Virginia Mine Wars from the perspectives of those who lived and worked in the coal camps from 1920 to 1921. "Kettle Bottom" has won several prizes, including a Pushcart Prize and the Ohioana Library Association Book of the Year in Poetry. Gilliam also won the 2008 Chaffin Award for Appalachian Writing.
In her review of "Kettle Bottom," Catherine MacDonald said, "Set in 1920–21, a period of violent unrest known as the West Virginia Mine Wars, the poems in Kettle Bottom combine compelling narratives with the charged, heightened language of lyric poetry. It is an unforgettable combination, one that characterizes the very best contemporary verse."
The reading at Mount Wachusett Community College will take place on April 6 from 12:30 to 1:30 p.m. at the North Café. An additional reading will take place later that night from 6:30 to 8 p.m. at Athol Public Library at 568 Main Street.
Gilliam grew up in Columbus, Ohio, daughter of parents who were part of the post-war Appalachian outmigration, from Mingo County West Virginia and Johnson County Kentucky. She earned a PhD in Romance Languages and Literatures from Ohio State and an MFA from Warren Wilson. Gilliam is the recipient of the 2013 Gift of Freedom Award from A Room of Her Own Foundation.
She lives in Akron, Ohio, where she works as a poet and quilter. She is currently working on two projects, supported by her two-year, $50,000 Gift of Freedom Award: a collection of poems titled "The Blackbirds Too," and a Young Adult novel in poems that continues the voices of female characters from Kettle Bottom.
The poetry reading is part of the college's Imagining Work humanities project from the MWCC Humanities Initiative that is funded through a $500,000 National Endowment for the Humanities (NEH) Challenge Grant as well as $1 million in funds from the MWCC Foundation.
The purpose of the endowment is to support collaborative and interdisciplinary teaching and research in the humanities and to engage MWCC students and residents in the North Central Massachusetts region in studies and discussions of enduring themes and ideas from the world's rich cultural and intellectual traditions. The endowment will fund common annual themes to be integrated across campus curricula and woven into campus and community humanities programming.