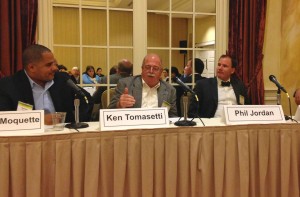 At Advanced Cable Ties in Gardner, 130 people show up to work each weekday, but they are not considered "employees," President and CEO Ken Tomasetti shared with an audience of state, industry, education and community leaders during the 6th Annual Massachusetts Jobs and Workforce Summit in Devens on Wednesday, Oct. 14."We don't have employees. We have 130 family members," he said.
Mr. Tomasetti, a member of Mount Wachusett Community College's Board of Trustees, participated in one of six plenary sessions focusing on "The Future of Work," presented by the Workforce Solutions Group in Devens. The event featured a number of prominent speakers, including Secretary of Labor and Workforce Ronald Walker, II, Secretary of Educatino Jim Peyser, Secretary of Housing and Economic Development Jay Ash, Attorney General Maura Healey, Senate President Stanley Rosenberg, University of Massachusetts President Marty Meehan.
A key theme of the summit focused on the strength of Massachusetts' community colleges to prepare the 21st century workforce. Mr. Tomasetti could attest to that. At Advanced Cable Ties/ACT Fastening Solutions, dozens of employees have participated in a wide range of workforce development classes offered by MWCC, such as LEAN manufacturing training and supervisory skills, he said.
Mr. Tomasetti, who founded the business at his home in 1994, nurtured his company to become a leading manufacturer of cable ties and wiring accessories proudly made in the U.S. The company now produces 1.7 billion cable ties each year in a high-tech manufacturing facility that is currently expanding by an additional 42,300-square feet and 60 new jobs.
But yearly production and manufacturing space aren't the only areas of growth at ACT. Over the past two decades, Mr. Tomasetti and his wife, Donna, have invested in their dedicated workers. Despite estimates that more than half of U.S. manufacturing jobs will become automated over the next 20 years, Mr. Tomasetti said that is not the case at ACT.
"Technology and automation have allowed us to expand," he said. Over the past decade the company has become completely automated, and not one person lost their job. "We have an excellent, dedicated workforce and we decided to stay with them, rather than outsource."