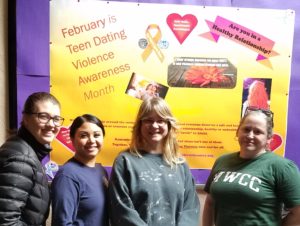 A group of students from Mount Wachusett Community College recently volunteered their time to assist the local organization Voices of Truth (VOT) in a painting project.
"I love helping the clubs interact with the community and seeing them learn about the many ways this organization helps people," said MWCC SliCE team member Tammy Goodgion who coordinated the volunteering.
On Saturday, February 17, Goodgion and members of the MWCC Student Club Women of the World (WOW) undertook a painting project at the nonprofit that works to prevent and break the cycle of domestic violence by providing educational services, collaboration and resources.
"Being a survivor of domestic violence plays a big part in me helping the organization in preventing individuals from suffering," said Goodgion. "Their Healthy Relationships program, where they show the difference between healthy relationships and destructive and sometimes abusive relationships, may help prevent the type of violence I had endured."
All the groups involved plan to continue working together in the future, said Goodgion.