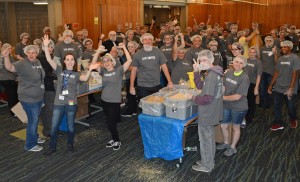 A group of nearly 200 enthusiastic volunteers at Mount Wachusett Community College worked in shifts throughout the day to more than double last year's efforts to combat hunger in the region.
Through the college's Center for Civic Learning and Community Engagement, students, faculty and staff teamed up in assembly lines to package 46,872 meals to serve families in need. The meals were distributed in the afternoon to food pantries and veterans centers in North Central Massachusetts.
The college became a Day of Caring host site in 2013, following years of participation in off-campus activities, and the event continues to grow each year, said Jana Murphy, a Liberal Arts & Sciences major who spearheaded this year's packaging event in her role as this year's Massachusetts Campus Compact AmeriCorps VISTA.
MWCC participated along with numerous other organizations in North Central Massachusetts, recognizing the 21st annual United Way Day of Caring.
Outreach, Inc., an Iowa-based nonprofit that also operates in the Northeast, provided supplies to create packages of meals consisting of macaroni and cheese and rice and beans.