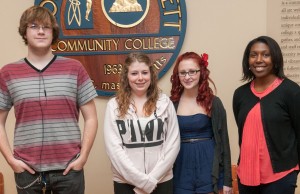 A career-oriented dual enrollment program that allows high school seniors from Winchendon to simultaneously earn their diploma and an academic certificate while enrolled full time at Mount Wachusett Community College, is among three early college partnerships lauded in a newly released report from the Rennie Center for Education Research & Policy.
The Rennie Center policy brief, Early College Designs: Achieving College- and Career-Readiness for all Massachusetts Students, explores successful early college models as part of the center's Roadmap to Expanding Opportunity series. The Robinson-Broadhurst Foundation Career Tech Scholarship program, a one-year, full-time dual enrollment program for seniors at Murdock Middle/High School, prepares students for a variety of careers including information technology, allied health, auto technology, cybersecurity, accounting, bookkeeping, analytical laboratory and quality systems, and small business management.
The program was established in 2012 through a grant from the Robinson-Broadhurst Foundation to assist low-income, first-generation college students, and accepts up to six students each year. By the end of a full academic year attending college courses, the students earn credentials to enter the workforce and complete the first year toward an associate or bachelor's degree. Students are provided with scholarships from the Robinson-Broadhurst Foundation to cover the costs of the college courses.
The programs highlighted in the policy brief "demonstrate that early college offers an innovative – and viable – solution to persistent problems of college access and persistence," Chad d'Entremont, Executive Director of the Rennie Center, notes in a letter announcing the new policy brief.  "By allowing participants to accumulate college credits and complete foundational courses before leaving high school, early college helps put students on a trajectory toward degree attainment."
In its brief, the Rennie Center notes the MWCC-Murdock partnership includes a variety of support services for students, including weekly meetings with an advisor, and three hours each week of professional tutoring and peer tutoring. In addition, students retain their connection with their guidance counselor at Murdock.
The program, which begins its fifth year this fall, is an innovative partnership between the college, the Winchendon school system and the private community foundation, said MWCC President Daniel M. Asquino. "We are most grateful for the continued support of the Robinson-Broadhurst Foundation. This program not only helps student achieve their goal of obtaining a college education without accruing tremendous loan debt, but ultimately supports the region's economy by preparing young people with skills they can directly apply in the workforce."
"The dual-enrollment program allows Murdock students an amazing opportunity to earn college credits for free," said Principal Joshua Romano. "Any advantage our students can get to become competitive with students from other schools just helps more of our students succeed in college and beyond."
Being in the Robinson-Broadhurst dual-enrollment program was "a life-changing experience," said Dakota Wood, a 2014 graduate who went on to earn an associate degree from MWCC in allied health in anticipation of continuing on for a degree in nursing. "I graduated high school with a free year of college under my belt. It's absolutely the best thing I could have done." Wood said the flexible schedule allowed him to still participate in high school activities, including music classes, band, chorus and theater productions.
In addition to the Commonwealth Dual Enrollment Program, also cited in the policy brief, Mount Wachusett offers two other signature dual enrollment programs open to Massachusetts students, The Pathways Early College Innovation School and the Gateway to College program, in partnership with the Ralph C. Mahar Regional School District.
An early college program between Amesbury High School and Northern Essex Community College, and a dual enrollment program between Marlborough High School and Framingham State University, were also highlighted by the Rennie Center's policy brief.
The Rennie Center was launched in 2002 by then-Secretary of Education Paul Reville as a division of the Massachusetts Institute for a New Commonwealth (MassINC). In 2005, the Cambridge-based center became an independent non-profit organization committed to addressing the critical challenges of reforming education in Massachusetts. For more information, visit www.renniecenter.org.