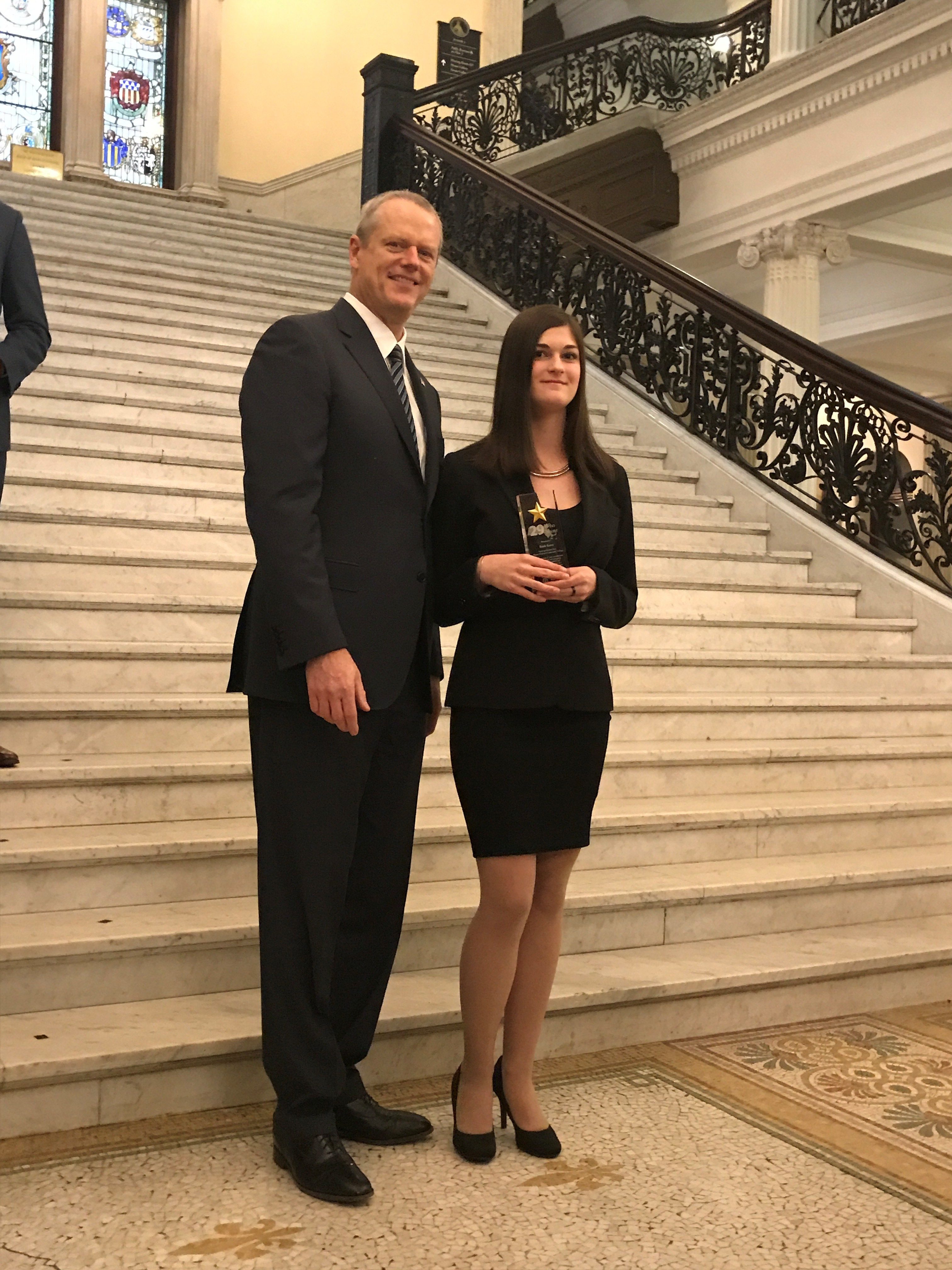 The MA Department of Higher Education recognized Mount Wachusett Community College's Faith Kurtz along with 28 other top students from across Massachusetts during the seventh annual 29 Who Shine award ceremony on May 5 at the Massachusetts Statehouse.
The ceremony honored outstanding graduating students from each of the state's 29 public colleges and universities, as well as each award recipients' faculty or staff mentor. Massachusetts Governor Charlie Baker distributed the award to the students at the Statehouse ceremony.
"Congratulations today, but what I'm really excited about is what happens next," said Baker explaining that all 29 students have already accomplished so much.
Faith Kurtz is a Pathways Early College Innovation student majoring in Liberal Arts and Sciences and currently has a 3.98 GPA. She will be graduating in May with her high school diploma and Associate Degree. She will be attending WPI in the Fall of 2017.
"With a career in engineering, my goal would not only be to support myself, but to improve as many people's lives as possible along the way. I hope to use creative problem solving to meet the needs of my community and approach projects with compassion so that the solutions they create serve those who need them most," Faith said. "My dream job is to design inventions which will improve the lives of others."
Upon coming to MWCC, Faith threw herself into the community and logged over 200 volunteer hours in her first six months; embracing the motto that you won't start succeeding until you start doing. Faith's mentor Natalie Mercier, the Director of the Pathways Early College Innovation School and Early College Experience, said she has seen Faith transform during her time at the college and come into her own as a leader.
"Natalie Mercier has helped me through every major step in my college career at MWCC," said Faith. "She has always made herself available when I have questions or need advice. She has been not only an invaluable resource, but also a kind and supportive friend who helped give me the confidence to believe I could succeed."
In addition to Faith's involvement at the college, which includes being the current President of the SGA and of the Music Club, she has taken part in the United Way Day of Caring as well as Awana.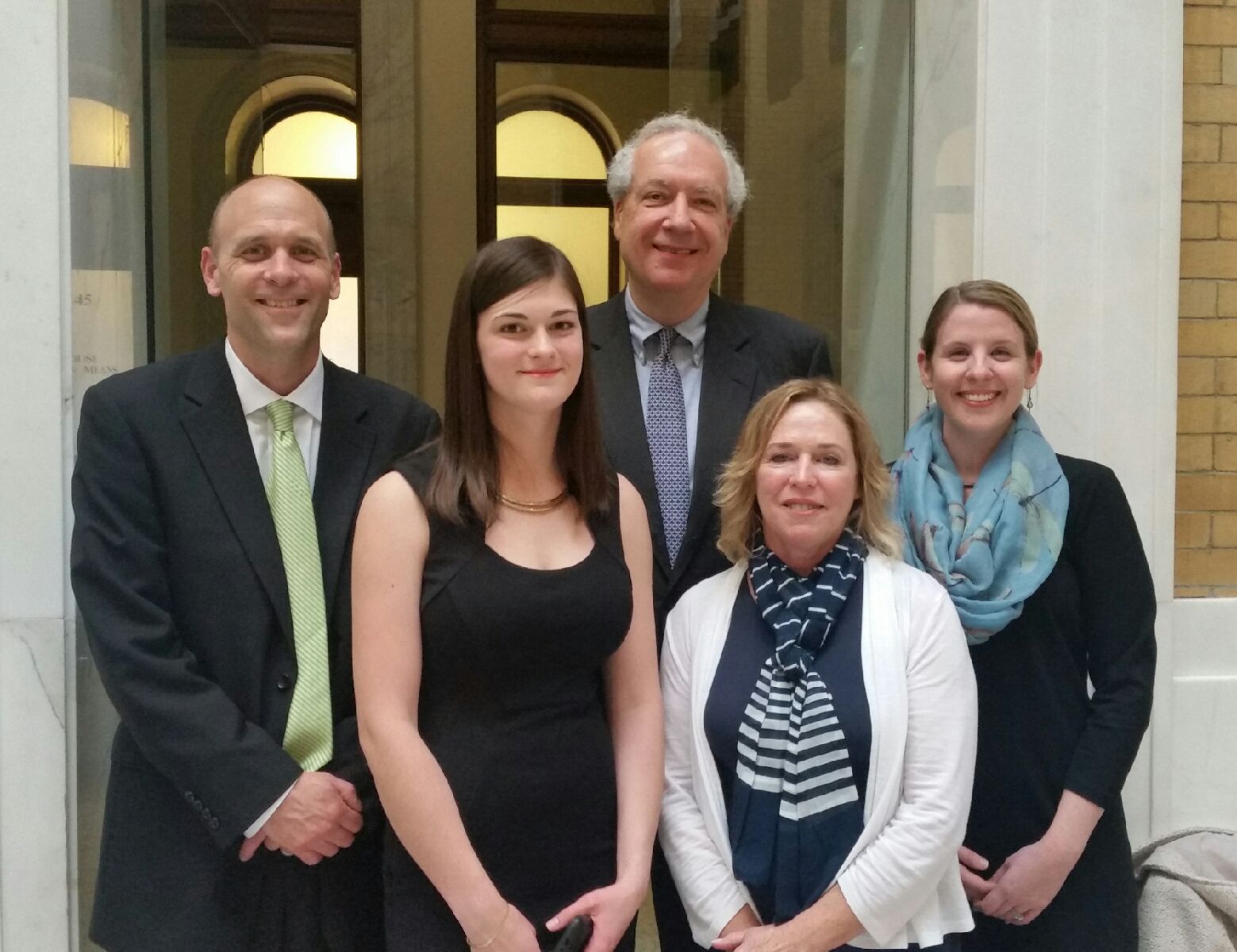 Faith has been a strong leader throughout her time at MWCC serving in many capacities as a volunteer and a voice for the student body. At the Fall 2016 Community College Student Leadership Association Student Conference she was awarded the Lisa Milso Emerging Leader Award for her work on campus as an emerging leader. Her willingness to serve wherever needed along with her outgoing and friendly demeanor have made her an asset to the MWCC community.
The honorees, chosen because of their academic achievements and record of student leadership and community service, contribute greatly to the civic life and economic well-being of the state, whether furthering their education or entering careers in Massachusetts in fields as diverse as education, public policy, medicine, creative arts and engineering.
"The outstanding 29 Who Shine students have made good on Massachusetts taxpayers' investment in their education," said Carlos E. Santiago, Commissioner of Higher Education. "Every year the 29 Who Shine remind us that our public college and university graduates represent the future of the Commonwealth. They are here to learn, here to stay, and it is incredibly inspiring to see how each honoree is contributing to our common good."