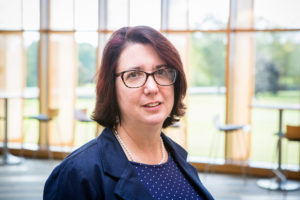 Mount Wachusett Community College's Director of Financial Aid Kelly Morrissey has been selected as one of two financial aid administrators to serve on the U.S. Department of Education's Gainful Employment Negotiated Rulemaking Committee.
"I am so proud that Kelly has been selected for the Gainful Employment Negotiated Rulemaking Committee. She will bring her compassion for students and extensive knowledge of financial matters to the discussion of these important regulations," said MWCC President James Vander Hooven.
The 16-person committee will work on a new gainful employment regulation. Current regulations were put in place during the Obama administration for all postsecondary schools that offer programs that do not lead to a degree. Community colleges offer many one year certificate programs that fall into this category.
Schools must report certain information for these certificate programs, including completion rates, debt burden and other data regarding student outcomes to allow consumers to make informed enrollment decisions, said Morrissey. There is also annual data that is required to be reported on all students enrolled in these programs. According to Morrissey, if these programs do not meet certain debt to income thresholds for its graduates, the institution could be subject to losing financial aid eligibility for students seeking those certificates.
"I am very honored to be serving as a representative for financial aid administrators on the negotiated rulemaking committee. It is exciting to be at the table for these negotiations, and I will be collaborating with my colleagues nationally to ensure that their concerns and ideas are shared with the other negotiators," said Morrissey.
While it is important for schools to offer high quality vocational programs that lead to employment opportunities for its students, she said, it is often administratively burdensome for schools to comply with the current iteration of these regulations. Now that a few years' worth of the Gainful Employment data has been compiled, the committee will be able to examine whether the information provides a real understanding of the worth of certificate programs.
"It is necessary to strike the correct balance between protecting students from enrollment in ineffective career programs and burdensome federal oversight," said Morrissey.
The committee's first meeting will be held in December.