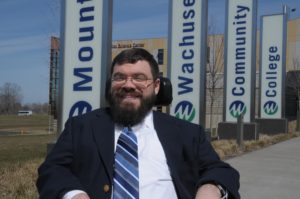 Nate Johnson's dedication to North Quabbin Citizen Advocacy association, which matches mentally disabled people with friends in an effort to improve their lives and integrate them into the wider community, is set to be recognized with Mount Wachusett Community College's Service Above Self award.
"Nate is the epitome of service above self. I am impressed by his incredible commitment to this association that connects people with their communities through meaningful one-on-one friendships. Nate's work embodies the civic engagement MWCC strives to instill in our students," said MWCC President James Vander Hooven who will present Johnson with the award at the college's commencement next week. "I am also happy to count him as an alumnus and know that his time here helped shape his path to helping others."
North Quabbin Citizen Advocacy (NQCA) is a not-for-profit association that develops and supports relationships between one person who has a mental disability or disorder and another person, who has skills and interests that match the needs and interests of their disabled friend. A strong connection with one person can create a meaningful impact on the life of a person with a mental disability or disorder, said Johnson who is the director of the association and has been involved with the group for seven years.
"People need friends. People deserve friends. Their life is better with friends. Their life is often longer with friends," said Johnson, who explained these friendships can lead to greater respect within the community. "The more valued roles a person has in society, the more respect they will have and the greater the chance they will have at getting the good things in life."
The goals of NQCA fit with the results-oriented community college model, he said.
"You're not going to cure a mental disability or disorder, but you can help people get into valued roles with the idea that much of the stigma that people experience is not related to their disability but to social attitudes. When a person with a disability is matched with a highly respected community member, it can begin to change attitudes," said Johnson.
The organization has helped create over 300 of these connections since it was founded over 30 years ago. Each year, 12 to 15 new relationships are initiated. Johnson said that one of the most recent pairings was made with someone who, at 41, had lived in institutions for most of their life and had literally never had a friend.
"We run into more people like that than you think. So often today, people with disabilities are segregated in school or even in group housing situation in the community," said Johnson.
As people with mental disorders or disabilities age, friendships and valued roles grow all the more important to combating isolation, he said. Johnson recalled the founder of the deinstitutionalization movement, Wolf Wolfensberger, being moved by a phrase he heard over and over from parents of children with mental disabilities: "Who will love my child when I die?"
"It's a key phrase. It's not 'Who is going to provide services? Who is going to take care of my kid?' It's who is going to love my kid?" said Johnson.
Johnson is an alumnus of Mount Wachusett Community College, having gone on to UMass Amherst to receive his Bachelor's degree in sociology with a concentration in social work. He credits his time at the school as allowing him to grow and become an advocate; first for himself and now for others.
"It was a great opportunity to spread my wings after high school. I give Mount Wachusett a lot of credit to building my self-esteem on the way to UMass," said Johnson. "Human services classes were often taught by people working in the field daily and putting themselves in the shoes of people being served… and putting themselves into the perspective of those with a disability."
Johnson will be honored at the college's 53rd commencement on Wednesday, May 16.