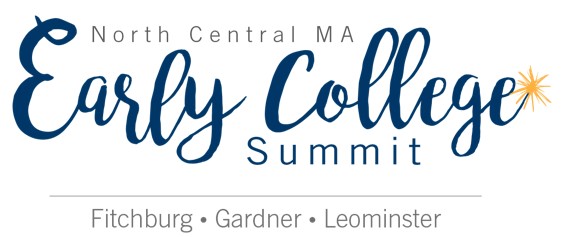 Day-long event will feature keynote speakers Carlos E Santiago, Commissioner of Higher Education and Chris Gabrieli Chairman of the Board of Higher Education
Leominster, MA – On Friday, October 18, 2019, North Central MA Early College Academy member superintendents and educators, higher-ed representatives, early college students, and local economic and civic leaders will come together at the Doubletree by Hilton in Leominster for a full day of sharing and collaboration in support of the Early College Designation launched this past June by Governor Charlie Baker.
The Early College initiative aims to create and maintain a regional early college pipeline for students in North Central Massachusetts, specifically targeting first-generation, low-income and diverse students who are typically underrepresented in higher education. It is also designed to engage "middle achievers" who may not feel that college is an option for them.
The North Central MA Early College Academy allows students from Fitchburg High School, Leominster High School and CTEI, Gardner High School, and Sizer School to attend Mount Wachusett Community College and/or Fitchburg State University and earn a minimum of 12 credits prior to high school graduation. Students in 9th and 10th grade attend career exploration and college preparation courses prior to beginning college courses during their junior year.
The Summit will kick off with a welcome from district superintendents, followed by sessions and round table discussions with the Montachusett Regional Planning Commission's Glenn Eaton, MassINC's Ben Forman, Fitchburg State's Alberto Cardelle, and MWCC's Lea Ann Scales. Current Pathways Early College program student Seth Germagian and Gateway to College graduate and MWCC student Audreana Houck will emcee the event, along with MWCC's Fagan Forhan.
Keynote speakers Carlos E. Santiago, Commissioner of Higher Education and Chris Gabrieli, Chairman of the Board of Higher Education will be followed in the afternoon by an Early College Student & Alumni Panel.
Additionally, Andrew Goodwin of FSU, Stefanaé Bowen of MWCC, Paula Bolger of GHS, and Lyndsie Curralo of Sizer Charter School will present on the North Central MA early college model.
For more information contact Fagan Forhan, Assistant Dean – K-12 Partnerships and Civic Engagement at MWCC at 978-630-9595.