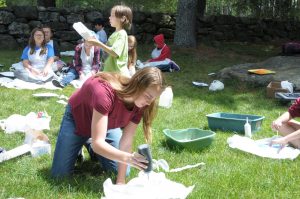 The North Central Massachusetts Talent Search Summer Program brought middle school students to Mount Wachusett Community College's Gardner campus to learn and have fun. The summer program that ran from July 10 to July 28 was designed to keep the "summer brain drain" from impacting the group of 25 students.
"We are making sure they stay sharp on their skills," said North Central Massachusetts Talent Search Site Coordinator Kyle LaTulippe, who explained that the program also provided free breakfast and lunch to students and taught them about a balanced diet.
The summer program for sixth and seventh graders was designed with an integrated approach to learning that used fun summer projects on campus and field trips to keep students engaged during the summer break. The program grew this year to serve 25 students.
"It's a fun program. It's a nice mix between education and fun and we get to do interesting field trips," said Moe Molai, who will be going into 8th grade in Winchendon this fall. "We do all sorts of college tours."
But it wasn't all fun and games. The program is also intellectually challenging and designed to tie into the curriculum students get year-round through the North Central Massachusetts Talent Search program, said LaTulippe. North Central Talent Search, which is federally funded and facilitated by Mount Wachusett Community College, is designed for low income or first generation college students. It provides additional opportunities for those students in the form of field trips, additional educational opportunities and mentoring in order to enhance the student's ability to go to college.
"Ever since I was little I've wanted to be a vet and they've really opened my eyes to how many colleges offer that now," said Jess Higbee, who will be going into 8th grade in Winchendon this fall.
By keeping the educational momentum going, as well as incorporating visits to colleges and instructors from the school year, continuity is maintained for students in the North Central Talent Search program, according to LaTulippe, and the program continues to carry home the message that college is attainable.
"It's letting them know college is a place for them to go. A lot of first generation students don't grow up with that perspective," said LaTulippe.
The North Central Talent Search serves students from Athol Royalston Regional School District, Clinton Public Schools, Ralph C. Mahar Regional School District, and Winchendon Public Schools.