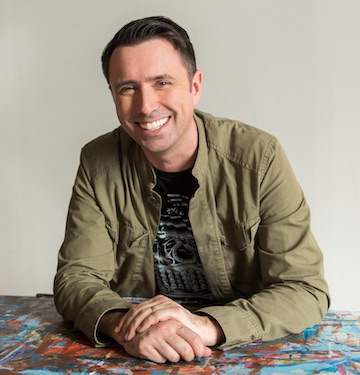 Worcester native Jarrett J. Krosoczka has been writing and illustrating books for young readers since the age of twenty-three. He has published over thirty titles, such as the popular graphic-novel series Lunch Lady and is a contributing writer to the Star Wars Jedi Academy series. Krosoczka has earned numerous accolades, including Eisner and Charlotte Award nominations, and has twice won the Children's Choice Book Award for the 3rd to 4th Grade Book of the Year. His memoir "Hey, Kiddo: How I Lost My Mother, Found My Father, and Dealt with Family Addiction" is the subject of his upcoming talk at Mount Wachusett Community College at 12 p.m. on March 11, 2020.
"Hey, Kiddo" is Krosoczka's first young adult graphic novel, and retells the story of his upbringing by his grandparents due to his mother's drug addiction and incarceration and his absent father. He first spoke publicly of his childhood in a TED Talk which was so widely shared he was encouraged to translate the story into a book. The resulting graphic novel brings the reader through Krosoczka's childhood and teen years as he learns to process the complexities of his family through his love of art and the encouragement of his grandparents.
Following the discussion, at 2 pm, the Diversity, Equity and Inclusion Team will be conducting a Narcan training. Both events are free and open to the public and will be held in the Multipurpose Room (115) at the Gardner campus.