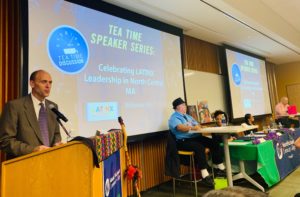 GARDNER— Over 200 students from Mount Wachusett Community College and two local middle schools were urged to step into future leadership roles by a panel of local LATINX leaders in North Central Massachusetts as part of the college's Tea Time Speaker Series, Monday, September 30. Students in the MWCC GEAR UP program from McKay and Longsjo Middle Schools attended the panel discussion and participated in related workshops as part of the day celebrating Hispanic Heritage Month (September 15-October 15).
"You are the voice of the Latino community. You are the next generation of leaders in our community," said Eladia Romero, Regional Manager for Massachusetts Congressman Jim McGovern. "Find the issue you are passionate about and find people with integrity to work with," she urged students, "and people will identify you as leaders." Fitchburg State University Provost and Vice President of Academic Affairs Alberto Cardelle repeated the call for students to get involved and seek out leadership opportunities while in college and added, "Don't be afraid to change your plans once you enter college." He entered college with a plan to enter medicine and instead found a rewarding career as a leader in higher education. "Listen to those you meet along the way," he advised. Mickey Guzmán, Information, Referral & Advocacy Specialist at the Spanish American Center, also told the students that his career path emerged throughout his educational experience. He was born in New York City to Puerto Rican parents and attended college at 17 on a handball scholarship. He learned to love education and after working as an educator in the region for a year, he now works at the Spanish American Center and has coached basketball, baseball and track and field. He urged students to embrace diversity and to make education a priority. Entrepreneur and TEDx Speaker Maria Milagros Vazquez told the crowd of students that leadership awaited them if they found their voice. "Be authentic," she advised. "We have to get better at showing up and being real."
This theme of an authentic embrace of culture ran throughout the discussion.  Moderator Irene Hernandez urged students to embrace the language, food, and music of their culture and to be open to sharing experiences with those in other cultures as well. In introducing Hernandez, who is the alumni representative on the MWCC Board of Trustees, President Jim Vander Hooven said, "She has dedicated herself to building bridges. She is a tour de force in bringing folks together."
In describing a leadership moment from his career, GEAR UP Assistant Director Victor Rojas credited his family for stressing the importance of education. After moving to Massachusetts from Puerto Rico, he attended Fitchburg Public Schools, Mount Wachusett Community College and Fitchburg State University. He reflected on his leadership challenge of entering the U.S. Military and serving in Kuwait and Iraq with some of his former students. "We made it through," Rojas said, "and Fitchburg High School had a great homecoming reception for us."
In addition to the panel, participants and students attended 2 workshops: "A presentation of History of Social Change in Latino Communities" by Francisco Ramos, Community Organizer with NewVue Communities in Fitchburg, Massachusetts and a presentation and demonstration from Prestige Barber Shop by Richard "Richie" Santana, business owner of Prestige Barber Salon in Gardner MA. Food was catered by the Spanish American Center in Leominster and music was provided by Winnie Y Su Trio Boricua   Boleros, Merengues, Bachatas y mas.
The Tea Time Speaker Series event was organized by a campus-wide team led by MWCC Gateway to College Resource Specialist Sharmese Gunn. Gateway students: Abraham Bravo, MWCC Student Trustee; and Tafadzwa Payne, President of ALANA student club, joined Gunn in introducing speakers and welcoming attendees. In addition, both students are Upward Bound TRiO students at Fitchburg State University.
The Tea Time Speaker Series was sponsored by: Gateway to College; President's Office at Mount Wachusett Community College; Mount Wachusett Community College's Leading for Change Diversity Consortium; The North Central Massachusetts Minority Coalition/Three Pyramids Inc.; Workforce Diversity Pipeline Program and is funded through a grant from the U.S. Department of Health and Human Services' Office of Minority Health, and GEARUP Gaining Early Awareness and Readiness for Undergraduate Programs.