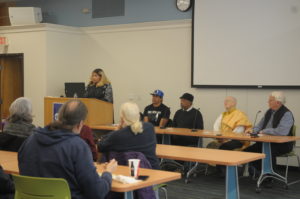 Mount Wachusett Community College hosted a panel exploring different perspectives on war, peace, prayer and growth at the Hope and Moving Forward symposium on November 28.
The symposium guests shared their perspectives with a crowd of college students and community members. The wide-ranging discussion explored the current state of the world, the importance of finding commonalities with each other and a move towards more understanding and embracing fellow people. Each speaker gave an introduction which was followed by questions and a discussion.
Annawon Weeden from the Mashpee Wampanoag Tribe described what life was like for the native people before Europeans began colonizing the Americas. He talked of the Mashpee Wampanoag Tribe's connection to the land and how important it is to maintain that connection.
"If we are to survive our environment will have to do so as well," he said. "We have an opportunity to make significant and profound changes for future generations.
Tim Bullock spoke about peace walks that he helps organize with the New England Peace Pagoda. His work around peace and nuclear disarmament is through direct action and prayer. The walks give people an opportunity for people to engage with each other and expand the ability to have conversations.
"This walk is our way of bringing conversations into communities," he said.
Sister Clare Carter, of the New England Peace Pagoda, began her introduction by leading a peace prayer. The Buddhist order practiced at the Peace Pagoda believes that goodness is within everyone but that an effort needs to be made to cultivate that nature. She also explained that even though things might seem chaotic and unsettled, those can be the best times for real change.
"Sometimes it takes things to be unsettled to feel a real opening for hope," said Sister Clare.
John Schuchardt is a veteran who works to support refugee children in receiving life-altering and life-saving medical support at in Boston. He and his wife Carrie facilitate the House of Peace in Ipswich, MA, which is a spiritual shelter for victims of war that the two built in 1990. He spoke about the inequity of the U.S. prison system and his belief that technology is leading us towards more conflict.
"We must abolish war. We must not go down this path of technology," said Schuchardt.
The event was moderated by MWCC student Vanessa Lynch. It was organized by Orange Ink and co-sponsored by the Art Club, ALANA, Hiking Club, and Green Society. It was made possible through the support from the MWCC Humanities Project, the Brewer Center for Civic Engagement, and the Student Government Association.
A more detailed story about this event was written by the Gardner News and can be viewed here.