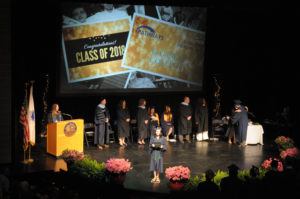 Fifty five students celebrated earning their high school diploma along with college credits or degrees through Mount Wachusett Community College's dual enrollment programs Friday night.
This year's graduates of the Pathways Early College Innovation School and the Gateway to College program were recognized during the May 18 graduation ceremony at MWCC. The programs are offered in partnership with the Ralph C. Mahar Regional School District and the Robinson Broadhurst Foundation, Inc. Career Tech Scholarship Program. They allow students to use school choice funding to earn their high school diploma while simultaneously earning college credits, an academic certificate, or an associate degree.
The graduation did not feature a guest speaker, but instead had four student speakers, the two valedictorians from each program as well as a student keynote speaker from each program who was picked through an application process.
Student Speaker Thomas Sutherland is a Robinson Broadhurst student from Murdock. He has completed his History & Political Science degree with a perfect 4.0. During the Evening of Excellence, Thomas was recognized as a President's Key recipient, Curriculum Award Winner for History and Political Science, and 2nd place winner for the Capstone Research Contest. He has been awarded a President's scholarship and will be attending Franklin Pierce University to study History and Secondary Education. His goal is to one day be a high school history teacher.
"This opportunity that I accepted two-years ago was the best decision I have ever made. It has allowed me to jump-start my education and get a head-start on the many years of schooling I have left… After graduation, we all begin the next chapter of our lives and step into another unknown. No matter where you come from, the amount of wealth you have, or how liked you were in the past, you can always achieve your dreams if you put your mind to it," said Thomas. "I encourage all of you to believe in yourselves, strive to succeed as you have here at Mount Wachusett, and accomplish your dreams."
Student speaker Leah Swain entered the Gateway to College program in the Fall 2016 semester. She served as an at-large representative to the Student Government Association, is member of the National Society of Leadership and Success and is a recipient of the John and Abigail Adams Scholarship, based on her high academic achievement on the MCAS exam.
Leah spoke of how her fifth grade teacher told her she should stop trying as she would end up flunking out of school anyhow. This haunted Leah and she feared it would come true when she was out of school for six months of her freshman year following a concussion. Gateway to College became the avenue for Leah to avoid that outcome and things were going well until another concussion set her back. But Leah persevered and is now graduating with an overall high school GPA of 3.17 and 32 earned college credits to apply to an Associate's degree. Leah plans to complete an associate's degree in Early Childhood Education at Mount Wachusett Community College, then transfer to a four-year institution.
"I didn't stop trying, and I would like to tell that teacher, who made me doubt myself every day for the past eight years, that I made it, and I created my own story and my own truth. High school may have taken me an extra year and was not easy, but class of 2018, none of us who are here today chose the traditional or easy route," said Leah. "Always remember it is not about how you get there or how long it takes you, but only that you do get there, so good luck and thank you."
Gateway to College Valedictorian Morgan Blavackas is graduating this year with her high school diploma and an Associate's degree in Liberal Arts and Sciences. Her cumulative GPA is a 3.78.
Morgan had dropped out of school due to medical and personal issues that culminated in the inability to leave the house. Though she tried many different avenues to continue in school, nothing worked. It wasn't until she was sitting in a driver's education class and talking with her friends, who were now seniors while she still had years left, about how they were going to be graduating soon. She then tapped into her love of learning and the flexibility that the Gateway to College program offers.
"Each of us are here now has taken a hold of our own paths because no one else can fight for us, no one else can want to be here. That is one of the main characteristics of Gateway is the responsibility. Where you are in charge of your success, you are not forced to be here and not even asked to raise your hand to simply use the bathroom," said Morgan.
Harnessing the skills that she learned in her time in the Gateway to College program, Morgan is now a part of the leadership team at Great Wolf Lodge. As a student, she led a United Way Youth Venture project to reality with MWCC set to adopt a student carpooling policy and develop eight designated carpooling parking spaces.
Morgan plans to explore further opportunities for advancement in her workplace and to pursue the 3 + 1 transfer program in Business Management, a partnership between Mount Wachusett Community College and Fitchburg State University. She is also an award recipient of the John and Abigail Adams Scholarship, based on her high achievement on the MCAS exam.
Kaitlyn Fales, the Pathways Early College Innovation School Valedictorian, is a Townsend resident and former Nashoba Valley Tech student. She has completed her Business Administration Transfer Associate's Degree with a perfect 4.0 and was a winner of the Business Administration Curriculum Award at the Evening of Excellence. She is also a President's Key recipient.
Kaitlyn is also president of Phi Theta Kappa Honor Society and Secretary of Alpha Beta Gama Business Honors Society. She will be attending Bryant University to study Business and Actuary Science this fall. She is also an award recipient of the John and Abigail Adams Scholarship, based on her high academic achievement on the MCAS exam.
But Kaitlyn's successful journey through Pathways started with a lack of confidence. This grew out of her relationship with her mother that crippled her confidence, with her mother eventually deciding to completely remove herself from Kaitlyn's life for five years now following a divorce from Kaitlyn's father.
"Looking back now, I can easily say that I am a completely different person than I was when I first walked through the doors. I stepped outside of my comfort zone, made friends, joined clubs, and became a true leader on campus. Without even noticing, I began to gain confidence, and I was able to tell myself that I was worth it, even if my mother did not believe it. I can stand here today and tell you all that I believe in myself again," said Kaitlyn who explained that everyone in the program has tackled their own challenges and grown in their own ways. The challenges you have overcome, whether academic or personal, have shaped you into who you are now: a scholar, a leader, an innovator."
The graduates from the two programs were: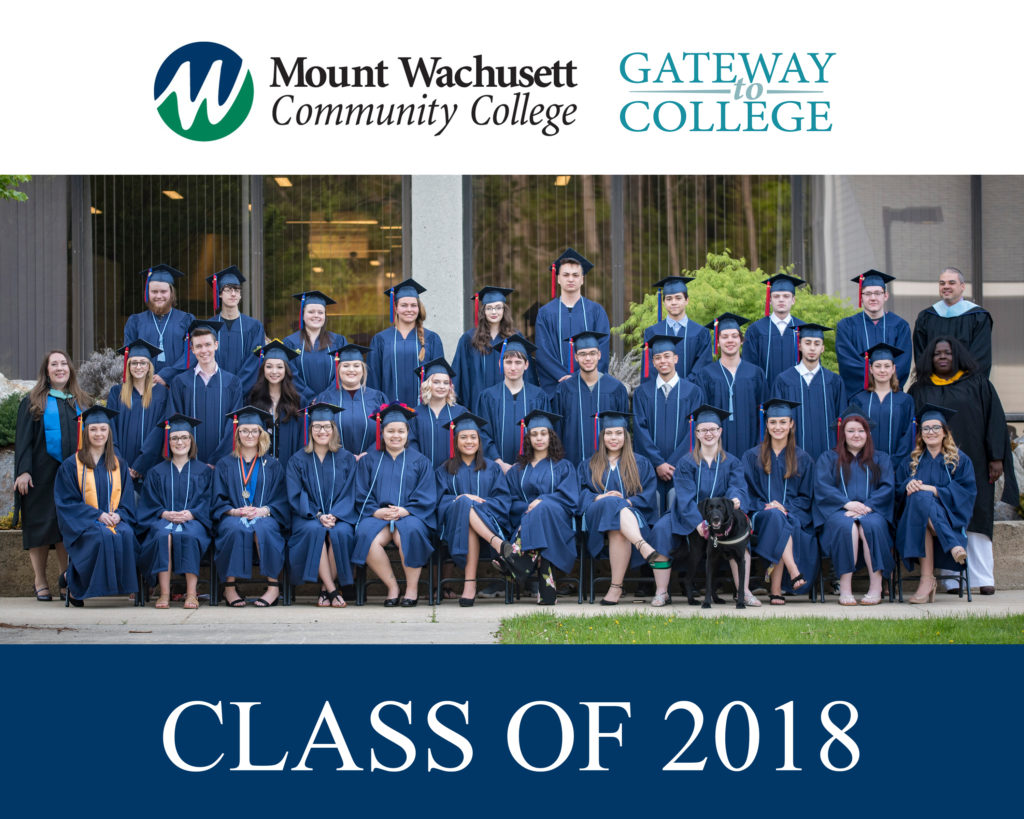 Gateway to College
Sarah Augeri Gardner
Kathryn Avery Petersham
Cassandra Bates Barre
Morgan Blavackas†❖ South Barre
Ryan Bombard Lancaster
Dawson Brady Lunenburg
Scarlet Bridges Gardner
Dylan Cernoia Gardner
Nolan Chalas Gardner
Ashley Denio Lancaster
Victor DeOliveira❖ Leominster
Kellianne Dodge Ashburnham
Richard Egan Ashburnham
Daniel Ferreira†❖ Leominster
Joseph Fries Barre
Elizabeth Gilbert Gardner
Parker Houghton Rutland
Madison Hurlburt Orange
Jeffrey Jasukonis Templeton
Kirsten Ladeau Orange
Dana Linnan Gardner
Mckayla O'Malley Gardner
Emily Paglia Lunenburg
Alexis Patchen North Brookfield
Taylor Rameau❖ Westminster
Dylan Romanowski Winchendon
Josue Salcedo†❖ Fitchburg
Anysmarie SantiagoΔ†❖Leominster
Tricia Sicard† Lunenburg
Brionni Spinazzola Fitchburg
Leah Swain† Lunenburg
Laryssa Truesdale Gardner
Laura Urdaneta❖ Clinton
Aileen Valerio Fitchburg
Matthew Vieira Gardner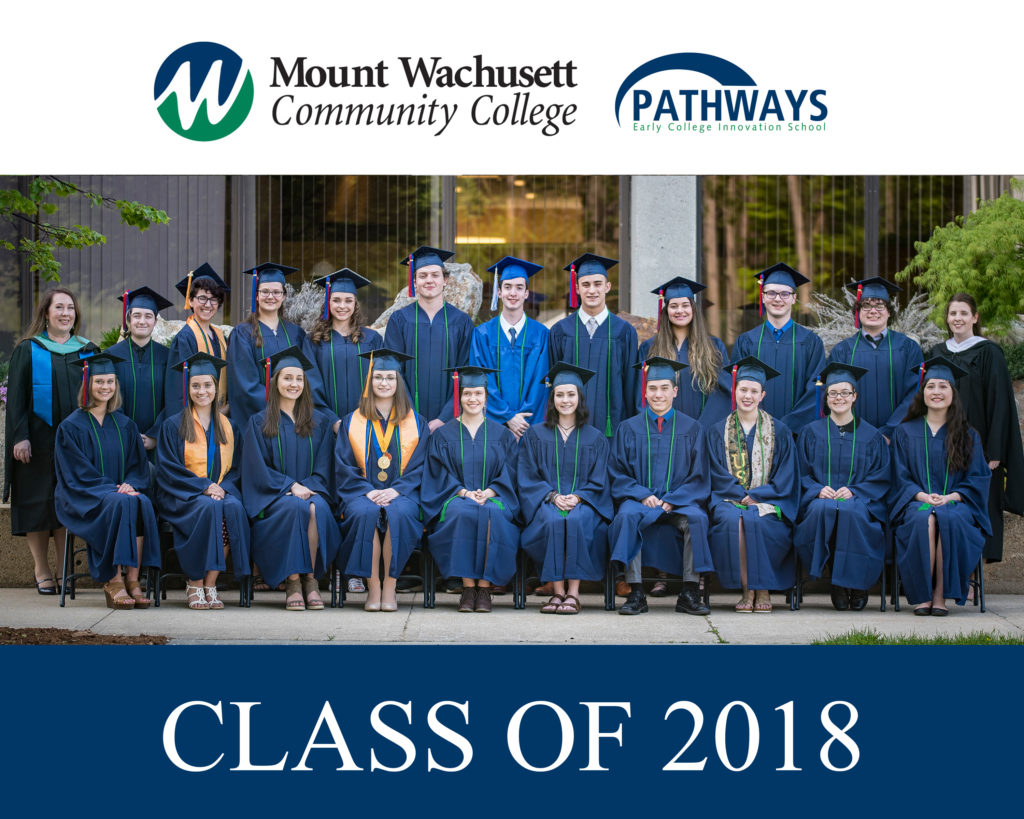 Pathways to Early College
Elysha Bedard†❖ Orange
Javin Blanchard †❖ Orange
Connor Clinkscale❖ Winchendon
Gillian Cormier †❖ Townsend
Michael Duffy❖ Fitchburg
Abigail Elbourn❖ Gardner
Kaitlyn Fales*Δ❖ Townsend
Olivia HowesΔ❖ Phillipston
Lilac Keenan❖ Leominster
Sean Mooney❖ North Brookfield
Alison Ralls*Δ❖ Dunstable
Jeremy Ralls*Δ❖ Dunstable
Isabel SalvatoreΔ❖ Lunenburg
Kathryn Schatia†❖ Townsend
Samantha Shippell Stiles Δ❖Westminster
Thomas Sutherland*❖ Winchendon
Sarah Urbina❖ Sterling
Ella Walsh*❖ Princeton
Oliver White❖ Lunenburg
Hannah Zanni†❖ Leominster
❖MWCC Associate's Degree ‡Robinson Broadhurst
*MWCC President's List (12+ Semester Hours, 4.0 GPA) †MWCC Dean's List (12+ Semester Hours, 3.30 – 3.99 GPA) ΔPhi Theta Kappa